Madhushala by Satya Raj Acharya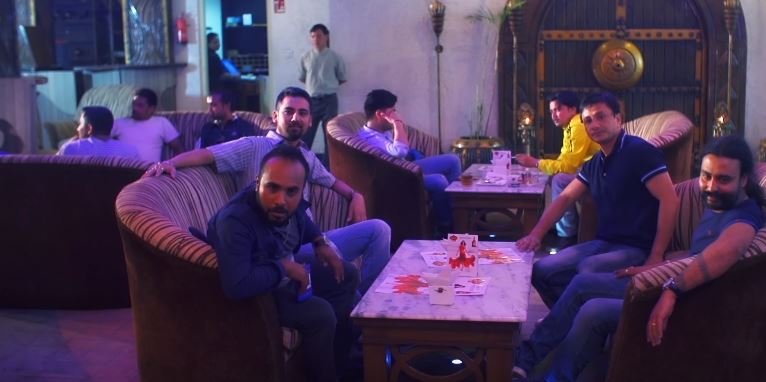 Madhushala is a Nepali aadhunik song from album "Madhushaalaa". The music video features Gajit Bista, Satya Raj Acharya and Nishma. Madhushala is a Nepali song by Satyaraj Acharya which is directed by Satya Raj Acharya. The music video was cinematographed by Hari Humagain and was edited by Bharat Regmi.
The lyrics and music for this song was composed by Satya Raj Acharya. The vocal for this song was given by Satyaraj Acharya. He is a Nepali singer and music-composer. He is one of the best known singer of Nepal. Satya Raj Acharya has followed their father's footsteps and has established themselves as promising singers are geared up to bring the real-life story of their father into reel-life. Madhushala song shows that for our health love is more dangerous that drinking alcohol. Once you listen to this song, I am sure you will keep tuning it.
The music video is released officially online by Bindabasini Music via Youtube. Hope that you will enjoy this melodious aadhunik gazal song Madhushala.
Here is the lyrics for Madhushala:
Maderala din janayacha
Kasai sanga ledaina
Sabai la dhoka dinchan
Tara yesla dedainaa
Dedainaa tesaila aau
Sathi ramau aja
Madhushala ma
Aau Sathi ramau
Aja Madhushala ma
Aau Sathi ramau
Aja Madhushala ma
Ek ek piyala samau aja
Ek ek piyala samau aja
Madhushala ma Madhushala ma
Aau Sathi ramau
Aja Madhushala ma
Madhushala ma……..

Jham jham pani pari rahacha
Jham jham pani pari rahacha
Rangin bha cha sajha hoo
Rangin bha cha sajha
Yo mahol jamau aja
Madhushala ma
Yo mahol jamau aja
Madhushala ma
Ek ek piyala samau aja
Ek ek piyala samau aja
Madhushala ma Madhushala ma
Aau Sathi ramau
Aja Madhushala ma
Madhushala ma……..

Chalkiya kaa mann bhitra
Kaa joorbhata haru

Chalkiya kaa mann bhitra
Kaa joorbhata haru
Chalkiya kaa mann bhitra
Kaa joorbhata haru
Kahi chin thamau aja
Madhushala ma
Kahi chin thamau aja
Madhushala ma
Ek ek piyala samau aja
Ek ek piyala samau aja
Madhushala ma Madhushala ma
Aau Sathi ramau
Aja Madhushala ma
Madhushala ma……..

Birsiya ra sansaraka
Birsiya ra sansaraka
Sabai dhuka pida ho
Sabai dhuka pida
Mann ko santi kamau aja
Madhushala ma
Mann ko santi kamau aja
Madhushala ma
Ek ek piyala samau aja
Ek ek piyala samau aja
Madhushala ma Madhushala ma
Aau Sathi
Aau Sathi
Aau Sathi ramau
Aja Madhushala ma
Madhushala ma…………