Maile Harda by Anju Panta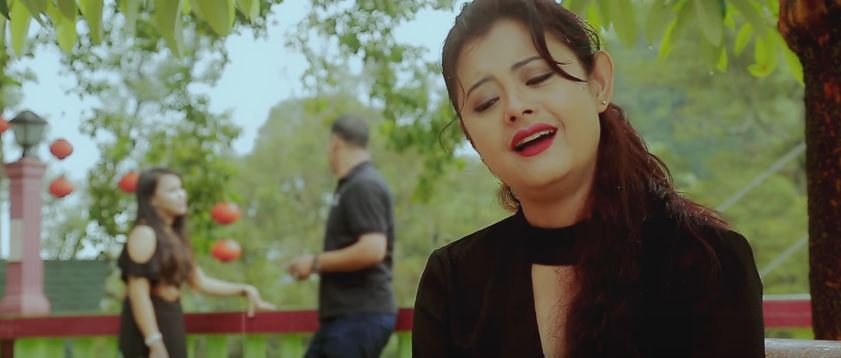 Maile Harda is a New Aadhunik Nepali Sentimental pop song by Anju Panta. The music video features Sushma Karki and Pasang Tamang. Maile Harda is a Nepali song by Anju Panta which is directed by Sundar Lawati. Maile Harda music video was edited by Arjun Pokharel and music video was cinematographed by Jeevan Senchuri.
The music of this song was composed by Manipal Rai and lyrics of this song was written by Pasang Tamang. Anju Panta who is one of the best Nepali female singer of this era. She gave her melodious voice to hundreds of Nepali songs. Here, she has come with new song in which she has explain the pain of heart when true lover are departure from each other. Hope that this song will also be the superhit song as "Na Birse Timilaai, Na Paye Timilai…". The hot actress Sushma Karki have played a lead role in this music video.
The music video is released officially online by Music Nepal via Youtube. Hope that you will enjoy this Melodious Sentimental Songs Maile Harda by Anju Panta.

Here is the lyrics for the song:
Maile herda k bho priya
Timila jiti rahanu
Maile herda k bho priya
Timila jiti rahanu
Dhukha pida mai sahula
Timi sagai khusi hunu
Dhukha pida mai sahula
TImi sagai khusi hunu
Maile herda k bho priya
Timila jiti rahanu…

Badyata la manna bitra
Badanalai lukayako
Badyata la manna bitra
Badanalai lukayako
Dherai theya sapana haru
Timro lagi sajhayeko
Dherai theya sapana haru
Timro lagi sajhayeko
Timro lagi sajhayeko
Sisa jastai tutyo biswas
Bhana ajai kati runu
Maile herda k bho priya
Timila jiti rahanu…

Mann ma pida bhaye pani
Timilai sadai maya diula
Mann ma pida bhaye pani
Timilai sadai maya diula
Timila bish diye pani
Amrit samjhi pie diula
Timila bish diye pani
Amrit samjhi pie diula
Amrit samjhi pie diula
Sisa jastai tutyo biswas
Bhana ajai kati runu
Maile herda k bho priya
Timila jiti rahanu
Dhukha pida mai sahula
Timi sagai khusi hunu
Dhukha pida mai sahula
Timi sagai khusi hunu
Maile herda k bho priya
Timila jiti rahanu……