Malai Birsera Jana (Audio) By Sanjeev Pradhan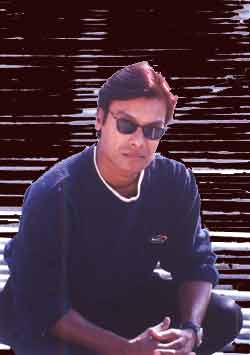 Malai Birsera Jana is a sentemental pop song by Sanjeev Pradhan. The music video is about hard relationship. In this song Sanjeev telling her imaginary girlfriend not to leave him and try to explain that she is the only one source of light in his life.
The lyrics and music for this song was composed by Sanjeev Pradhan. He is pop singer from Nepal singing Nepali and Newari Language songs. He was born in 10th Baisakh 2031 B.S. at  Kathmandu. He has graduated in commerce. started his musical career at an early age of 17 has been in the Nepali music schene for the part 10 years. Until now he has released 12 cds and cassettes and has won awards such as the National Cultural Academy Award 2057. This Capricorn who started his career with the album "Mero Preet Mero Priya" is still going strong with more than 120 songs. The notable songs are "Derulai ko Chautarima","Nasa vitra nasa",etc. in Nepali language and "Mohani wola", etc. in Newari Language.When you once listen this song, I am sure you will keep repeating it.
The music video is released officially online by Sujan Khatiwada via Youtube. Hope that you will enjoy this melodious song Malai Birsera Jana.
Here is the lyrics for the song Malai Birsera Jana:
Malai birsera jana na khoja
Mana bhari byatha dina na khoja
Ma ta timro maya ma mare chhu
Ma ta timro maya ma mare chhu
Malai birsera jana na khoja
Mana bhari byatha dina na khoja
Ma ta timro maya ma mare chhu
Ma ta timro maya ma mare chhu

Hey………

Ma yesai ghaite chhu
Ma usai ghaite chhu
Timro maya ma phasera ma
Aafai sanga birano hunchhu
Ma ta timro maya ma mare chhu
Ma ta timro maya ma mare chhu
Malai birsera jana na khoja
Mana bhari byatha dina na khoja
Ma ta timro maya ma mare chhu
Ma ta timro maya ma mare chhu

Hey………

Ma rundai garnu chhu
Ma jiundai marne chhu
Timro maya ko aago ma
Roye pani ma hansne garchhu
Roye pani ma hansne garchhu
Ma ta timro maya ma mare chhu
Ma ta timro maya ma mare chhu
Malai birsera jana na khoja
Mana bhari byatha dina na khoja
Ma ta timro maya ma mare chhu
Ma ta timro maya ma mare chhu