Man ko Kura by Rabindra Samual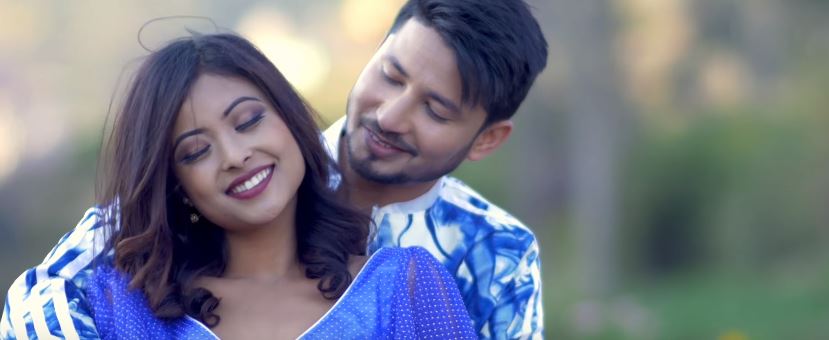 Man ko Kura is a new Nepali aadhunik song by Rabindra Samual. The music video features Kristina Thapa and Dharma Ghimire. Man ko Kura is a Nepali song which is directed by Milan Shankar. The music video was edited by Ashok Malla and was cinematographed by Dinesh Parajuli.
The lyrics and music for this song was composed by Jiten Lepcha and was arranged by Phanendra Rai. The music video features versatile model Kristina Thapa. Kristina Thapa is a hot and sexy model who has given her best performance for making this music video good. The melodious voice is given by innovative and energetic singer Rabindra Samual. Man ko Kura is a romantic modern song in which presentation of the music video has clarify the main theme of the song. When you once listen this song, I am sure you will keep repeating it.
The music video is released officially online by ASIAN MUSIC via Youtube. Hope that you will enjoy this modern song Man ko Kura.
Here is the lyrics for Man ko Kura:
Man ko Kura bhanna
Khojhachu priya
Kamchha thar thari otha
Timi bhayek aru
Kalpana mai sochana
Sakdina ni ma

Man ko Kura bhanna
Khojhachu priya
Kamchha thar thari otha
Timi bhayek aru
Kalpana mai sochana
Sakdina ni ma
Timro lagi sara sansar
Kini dina sakchu ma
Maya le maya le Maya le
Maya le maya le Maya le………

Timro mero yo bich
Koe na hos
Mitha mitha sangit ko
Dhuna hos

Timro mero yo bich
Koe na hos
Mitha mitha sangit ko
Dhuna hos
Maya nai maya hos
Maya nai maya hos
Khusi jati sabai laijau priya
Dhukha jati lanchu ma
Khusi jati sabai laijau priya
Dhukha jati lanchu ma
Timro lagi duniya sanga
Ladhi dina sakchu ma
Maya le maya le Maya le
Maya le maya le Maya le………

Au basi dauna najik mero
Jindagi bhari nai ma timro

Au basi dauna najik mero
Jindagi bhari nai ma timro
Harauna deu malae
Timro angalo mai
Raat bitcha timro samjhana ma
Samjhi kati baschu ma
Raat bitcha timro samjhana ma
Samjhi kati baschu ma
Timro lagi sayau choti
Mari dina sakchu ma
Maya le maya le Maya le
Maya le maya le Maya le………