Man Parai Timile by Trilok Lama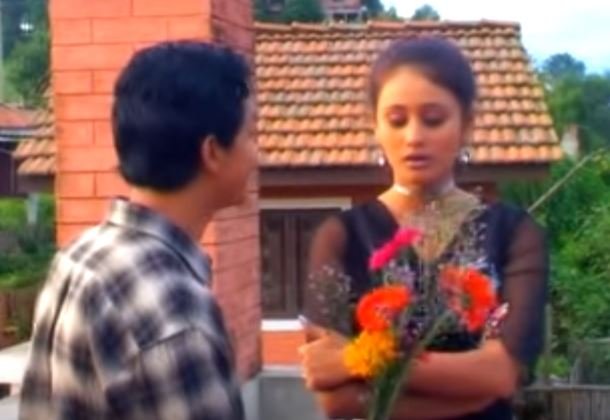 Man parai timilea is a beautiful pop song by Trilok lama. The lyrics for this song is written by Buddhabir Lama and the music is composed by Chandra Dhong . The music video is directed  by Surya Man Ranjit.
This music video is officially released online by Dhaulagiri Cassette Center via Youtube. Enjoy this beautiful song by Trilok Lama.
The lyrics for this song is:
Man paraai timile hatte garyeu ni
Garib bhanne thaahaa paauda
Chhadi gayou ni chhadi gayeu ni
Man paraai timile hatte garyeu ni
Garib bhanne thaahaa paauda
Chhadi gayou ni chhadi gayeu ni…

Maanchhe ko bhidmaa
Maanchhe chinna gaarho bho
Timro jhuto maaya nai
Bijhaaune kaado bho
Maanchhe ko bhidmaa
Maanchhe chinna gaarho bho
Timro jhuto maaya nai
Bijhaaune kaado bho

man paraai timile hatte garyeu ni
Garib bhanne thaahaa paauda
Chhadi gayou ni chhadi gayeu ni…

Ramaau timi mahalmai
Jhupadi ma sajaauchhu
Ramaau timi mahalmai
Jhupadi ma sajaauchhu
Dhan bhaaki lai hoina ma
Man bhaaki lai apanaauchhu
Dhan bhaaki lai hoina ma
Man bhaaki lai apanaauchhu

Man paraai timile hatte garyeu ni
Garib bhanne thaahaa paauda
Chhadi gayou ni chhadi gayeu ni
Man paraai timile hatte garyeu ni
Garib bhanne thaahaa paauda
Chhadi gayou ni chhadi gayeu ni…

Man paraai timile hatte garyeu ni
Garib bhanne thaahaa paauda
Chhadi gayou ni chhadi gayeu ni