Manchhele Chahera Pani By Sanjeev Pradhan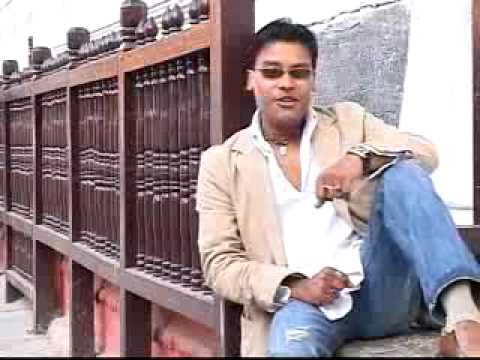 Manchhele Chahera Pani is a sentemental pop song by Sanjeev Pradhan from album "Moments". In this song Sanjeev tries to explain how hard life is? There is nothing goes according to our will because every thing will occur randomly and it is hard to live with those uncertainties.
The vocal in this song Manchhele Chahera Pani was given by Sanjeev Pradhan. He was born in 10th Baisakh 2031 B.S. at  Kathmandu. He has graduated in commerce. started his musical career at an early age of 17 has been in the Nepali music schene for the part 10 years. He's also performed in places like Hong Kong to Sikkim and every corner of Nepal. With 120 singles and 12 albums his aim is still remains to be a better singer. And he's not afraid to say that he is jealous with non other than the great Narayan Gopal. The notable songs are "Derulai ko Chautarima","Nasa vitra nasa",etc. in Nepali language and "Mohani wola", etc. in Newari Language. The post production to this music video is done by Namaste Vision. When you once listen this song, I am sure you will keep repeating it.
The music video is released officially online by Sujan Khatiwada via Youtube. Hope that you will enjoy this melodious song Manchhele Chahera Pani.
Here is the lyrics for the song Manchhele Chahera Pani:
Maanchhe le chaahera pani
Lukaayera bedana raakhna sakdaina
Aba ta gaarho bho
Sahana saarho bho
Aba ta gaarho bho
Sahana saarho bho
Baha ye aasu baha
Ke bho ta aba
Ke bho ta aba manle
Thaamna sakdaina
Maanchhe le chaherai pani
Maanchhe le chaherai pani

Kasto hai yo ta najaati
Man na ho bhaidiye paththar
Aba ta kati jaati
Manchhe le chaaherai pani
Kasto hai yo ta najaati
Man na ho bhaidiye paththar
Aba ta kati jaati
Manchhe le chaaherai pani
Man na ho saano ghaau pani
Aahana nasakne
Kasto hai yo ta najaati
Maanchhe le chaherai pani
Maanchhe le chaherai pani

Saarhai nai yo ta chha jaali
Man na ho bhaidiye swaarthi
Aba ta kati jaati
Maanchhe le chaaherai pani
Saarhai nai yo ta chha jaali
Man na ho bhaidiye swaarthi
Aba ta kati jaati
Maanchhe le chaaherai pani
Man na ho aafno sanga
Paraayaa bhayera basna
Napare kati jaati
Manchhe le chaherai pani
Manchhe le chaherai pani
Lukaayera bedana raakhna sakdaina
Aba ta gaarho bho
Sahana saarho bho
Baha ye aasu baha
Ke bho ta aba
Ke bho ta aba manle
Thaamna sakdaina
Maanchhe le chaherai pani
Maanchhe le chaherai pani