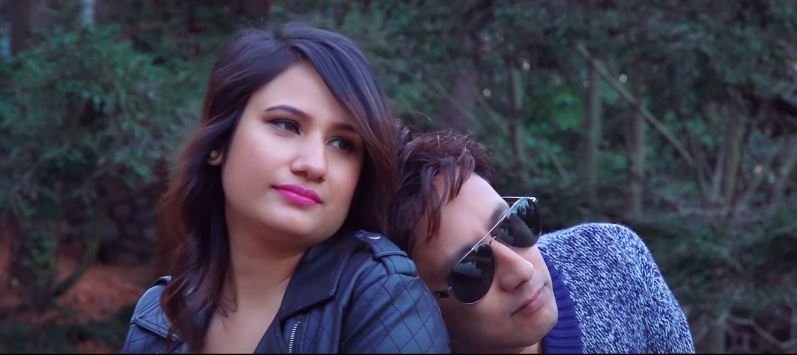 Maya is a New Nepali Aadhunik Melodious Romantic Pop Song by Samir Acharya. The music video features Vivek & Prapti. Maya is a Nepali song by Samir Acharya which is directed by Prasanna Poudyal. Maya music video was edited by Tekendra Shah.
The music of this song is composed by Shikhar Santosh and lyrics was written by Rajendra Thapa. The music video is featuring by versatile model Prapti. Prapti is one of the hot and sexy model of Nepali music industry. Maya is Valentine song. Samir Acharya presented the maya as the gift of Valentine as being a Nepali Singer. He has express the important of love in someone life.
The music video is released officially online by HighlightsNepal via Youtube. Hope that you will enjoy this Romantic pop Song Maya.

Here is the lyrics for the song:
Chuna manche
Najik na huda ni
Aa kaela rudai
Na ruda ni
Oelayako phul fakridani
Bapata maya
Farkida ni
Lagcha bhagwan
Hudo raecha
Maya bardan
Hudo raecha
Lagcha bhagwan
Hudo raecha
Maya bardan
Hudo raecha…

Asha mari
Sakako mann ma
Biswas tuti sakako
Jiwan ma
Taranga naya
Bhari dhadkan ma
Timro maya pauda
Mero tarpan ma
Lagcha bhagwan
Hudo raecha
Maya bardan
Hudo raecha
Lagcha bhagwan
Hudo raecha
Maya bardan
Hudo raecha…

Maya ko phula
Phulauda mutu ma
Ago pheri jalauda
Jiwan ma
Timi bhetiyau
Mero kadkan ma
Ranga bannida
Mero tanman ma
Lagcha bhagwan
Hudo raecha
Maya bardan
Hudo raecha
Lagcha bhagwan
Hudo raecha
Maya bardan
Hudo raecha…