Maya Chhodera Najau By Melina Rai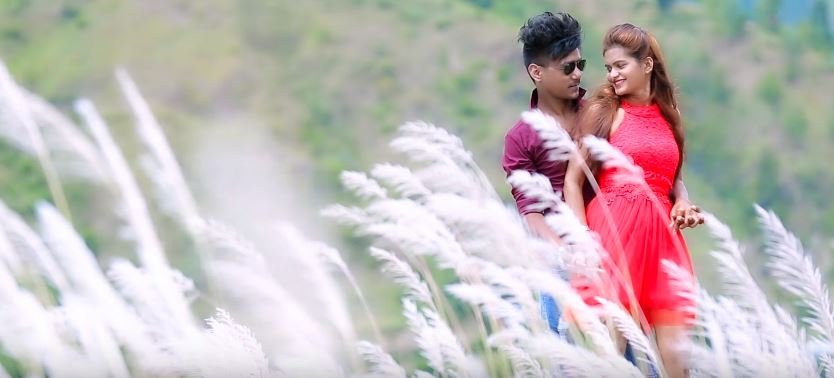 Maya Chhodera Najau is a new Nepali sentimental song by Melina Rai. The music video features Rabin Shrestha and Pratima Karki. Maya Chhodera Najau Nepali song which is directed by Kingstar Bijaya Lama. This music video was edited by Manish Karki and was cinematographed by Raju Lama.
The lyrics and music for the song was composed by Pradeep Bohara Kingstar and music video was arranged by Hemanta Shishir. The music video features hot and beautiful model, Pratima Karki. The melodious voice is given by Melina Rai. Nepali singer Melina Rai is playback singer. This music video shows that everything is temporary emotions, thoughts, people and scenery, so don't become attached just flow with it. Purbeli Juntara Music has presented this music video. When you once listen this song, I am sure you will keep tuning it.
The music video is released officially online by HighlightsNepal via Youtube. Hope that you will enjoy this sentimental song Maya Chhodera Najau.

Here is the lyrics for Maya Chhodera Najau:
Maya Chhodera Najau
Nata todhera Najau

Maya Chhodera Najau
Nata todhera Najau
Mero maya lai yeti
Sajhilai Chhodera najau
Mero maya lai yeti
Sajhilai Chhodera najau……

Aafu bechi khusi saara
Timra lagi kini diula

Aafu bechi khusi saara
Timra lagi kini diula
Yedi timilai paena bhane
Agaj sari hini diula
Yedi timilai paena bhane
Agaj sari hini diula
Jhalko aucha sarai
Maya laucha sarai
Timi bina ma k gari
Bachau la sochana chha garai
Timi bina ma k gari
Bachau la sochana chha garai…….

Satai juni timi sanga
Jiuchu pani bhandina ma

Satai juni timi sanga
Jiuchu pani bhandina ma
Jati bacha chu timi dhekhi
Tadha kaela bhandina ma
Jati bacha chu timi dhekhi
Tadha kaela bhandina ma
Bhujha mero manna
Timilai pauna chahana
Pherki ae deu
Mero jiban ma
Yo mann ko kamana
Pherki ae deu
Mero jiban ma
Yo mann ko kamana

Maya Chhodera Najau
Nata todhera Najau

Maya Chhodera Najau
Nata todhera Najau
Mero maya lai yeti
Sajhilai Chhodera najau
Mero maya lai yeti
Sajhilai Chhodera najau………