Maya Dhoka Bhanchhan (Audio) by Laxman Sharma and Milan Amatya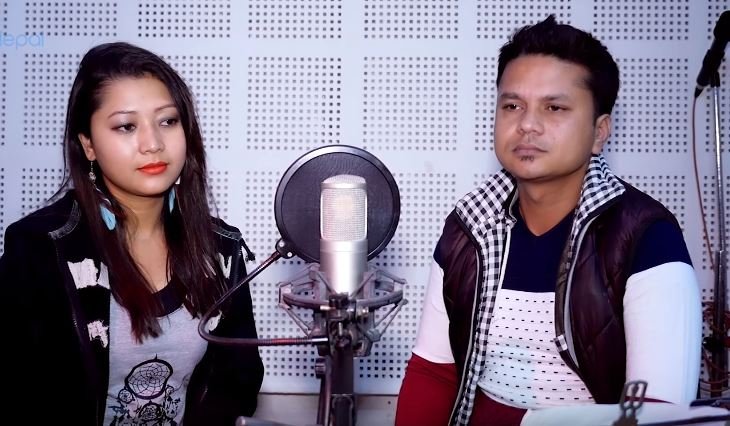 Maya Dhoka Bhanchhan is a Nepali aadhunik song by Laxman Sharma and Milan Amatya. The music for this song was arranged by Aaga Lama. This music video is just a simple audio version during the recording of the song at Pragya Sound.
The lyrics of the song Maya Dhoka Bhanchhan is written by Rabin Sharma and music is composed by Laxman Sharma. The Innovative, energetic and multidimensional young singer Milan Amatya has contributed her voice in this song. She is one of the established singer of Nepali music video industry. Maya Dhoka Bhanchhan deliver the message that Love is a dream for the wise, a game for the fool, a comedy for the rich and a tragedy for the poor. When you once listen this song, I am sure you will keep repeating it.
 This song is released officially online by SongsNepal via Youtube. Hope that you will enjoy this Melodious aadhunik song Maya Dhoka Bhanchhan.
Here is the lyrics for Maya Dhoka Bhanchhan:
Ruwa yo ruwa ruwayo
Papi maya la gharna
Gaat ko banayedeyo
Jhaali maya la
Gharna Gaat ko
Banayedeyo Jhaali maya la

Maya dhoka bhanchan sabai
Kasko gaunu geet
Maya dhoka bhanchan sabai
Kasko gaunu geet
Huncha ra khoi perati ma
Huncha ra khoi perati ma
Koi ko haar jita
Maya dhoka bhancan sabai
Kasko gaunu geet……….

Hijo aafnai mutu
Bhantheyau aafnai
Theyau chaya
Aafnai mutu thuridani
Lagana ra maya

Aafani mutu aafnai pradna
Aafani mutu aafnai pradna
Chayena aafai shita
Huncha ra khoi perati ma
Koi ko haar jita
Huncha ra khoi perati ma
Koi ko haar jita……….

Kasko pugya cha ra
Yaha maga jathi kura
Bhadeyata la pahiradai chu
Sindur pota chura

Aautai echa theyo mero
Aautai echa theyo mero
Jeuna timi sita
Huncha ra khoi perati ma
Koi ko haar jita
Huncha ra khoi perati ma
Koi ko haar jita
Ruwa yo ruwa ruwayo
Papi maya la gharna
Gaat ko banayedeyo
Jhaali maya la
Gharna Gaat ko
Banayedeyo Jhaali maya la
Gharna Gaat ko
Banayedeyo Jhaali maya la………