Maya ko Chino by Tara prakash Limbu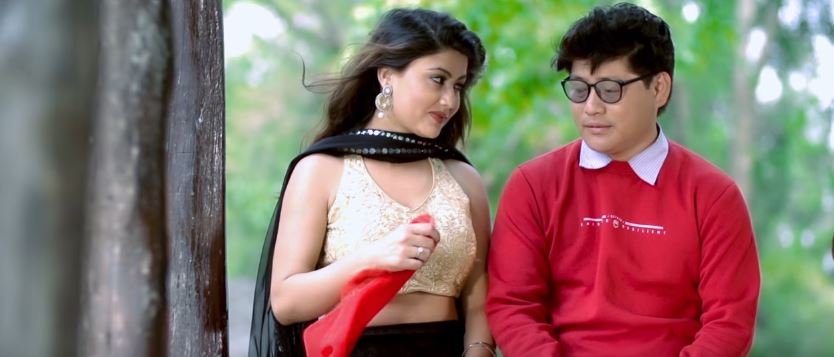 Maya ko Chino is a New Aadhunik Sentimental Nepali Pop song from Album "BEYOND". The music video features by Tara Prakash Limbu & Sampada Baniya. Maya ko Chino is a Nepali song by Tara Prakash Limbu which is directed by Arjun Adhikari. Maya ko Chino music video was edited by Nishan Ghimire and music video was Cinematographed by Hari Humagain.
The music of this song is composed by Tara Prakash Limbu and lyrics of this song was written by Raj Pahari. The music video features by hot and sexy model Sampada Baniya. In this song, we can see that the love of father towards  his child in absence of mother. Here, Tara Prakash Limbu wife Sampada Baniya has left the world during the time of delivery. And Tara Prakash Limbu have responsibility to take care of his child by giving the lots of love. Later on, The child has forget that they had lose their mother due to the love and care of their father. When you once listen this song, I am sure you will keep repeating it.
The music video is released officially online by StarLight Entertainment via Youtube. Hope that you will enjoy this Melodious pop Song Maya ko Chino.

Here is the lyrics for the song:
Maya ko chino Kusuma rumal
Udhayo hawa la
Kurera basi jindagi bityo
Ruwayo maya la
Rita ko maya Chutera gayo
Aayena pharkiyera
Maya ko chino Kusuma rumal
Aayena pharkiyera…

kajhama sara bhawana mann ka
Pokhera satada theyau
Bholi ko din ko
Kalpana gardai kaha
Kaha harau theyau
Ti sabai sapana tukrara gaye
Aayena jhutera
Maya ko chino Kusuma rumal
Aayena pharkiyera…

Goreto galli ghumti haru ma
Sang sagai hidako
Kaela na chutna
Kaela na tutana
Kasam khayeko
Ti bacha kasam tutara gaye
Aayena jhutera
Maya ko chino Kusuma rumal
Aayena pharkiyera………