Maya Ko Milan Ma by Ramkrishna Dhakal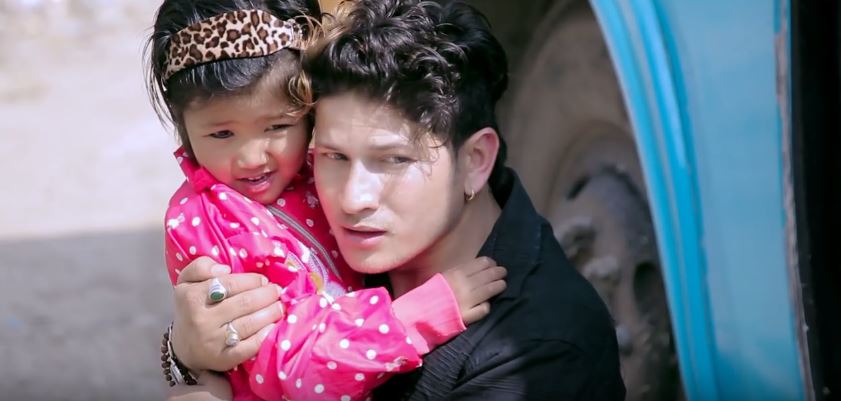 Maya Ko Milan Ma is a New Nepali Romantic Aadhunik pop song by Ramkrishna Dhakal. The music video features Ramesh Regmi, Manju Tamang and Hari Shrestha. Maya Ko Milan Ma is a Nepali song by Ramkrishna Dhakal which is directed by Ramesh Regmi. Maya Ko Milan Ma music video was edited by Prem Sharma Paudel and music video was cinematographed by Bikash Rayamajhi.
The music video of this song was arranged by Amul Karki and lyrics of this song was written by Pankaj Karki. Ramkrishna Dhakal is one of the most popular and talented pop, playback singer and actor. Ramkrishna Dhakal is consider as second late NaranyanGopal, who is respected as the king of melody in the Nepali music world. He has released many albums of modern songs. Maya Ko Milan Ma is a sentimental song in which we can see the fake love of Manju Tamang. She has left her daughter at that time when she needs the love of mother as well as family. When you once listen this song, I am sure you will keep repeating it.
The music video is released officially online by Indreni Digital Media via Youtube. Hope that you will enjoy this Melodious Aadhunik pop song Maya Ko Milan Ma.

Here is the lyrics for the song:
Maya Ko Milan Ma
Ramna haru lai
Niyano niyano gham
Jasto Bhayo jindagi
Maya Ko Milan Ma
Ramna haru lai
Niyano niyano gham
Jasto Bhayo jindagi
Bichoda ma sadai
Runa haru lai herum
Herum herum
Dadelo ra dhuwa jastai
Bhayo jindagi…

Otha ma sadai muskan
Huna haru lai
Kae chaena chinta
Kae chaena pira
Aakha bhari aashu
Huna haru lai herum
Herum herum
Ki ta huncha paero
Ki ta huncha bhira…

Aadhi huri jasla
Bhogyo jiwan ma
Aba k nai rayo ra baki
Aba k nai rayo ra baki
Jasko jiwan ma chha
Kalo badal herum
Herum herum
Kita pida hunchan
Kita chot huncha baki…

Malam lagayera
kati ghau purnu
Yesari kati mirtu
Lai Kurnu
Malam lagayera
kati ghau purnu
Yesari kati mirtu
Lai Kurnu
Dhukhiyako jiwan sadai
Yestai herum herum herum
Na ta hunchu bachanu
Na ta huncha bachanu
Maya Ko Milan Ma
Ramna haru lai
Niyano niyano gham
Jasto Bhayo jindagi…………