Maya Malai By Deepesh Kishwor Bhattarai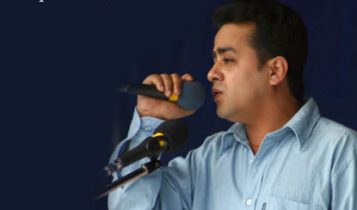 Maya Malai is a new Nepali pop song by Deepesh Kishwor Bhattarai. This song is taken from the one of the famous album of the Deepesh "Forever". The music video was filmed by Ajaya. This music video is produced by Taal Music. The music video was edited by Sachin Shrestha. And the music video was directed and the the graphics was handle by Simosh Sunuwar.
The song is melodious and awesome because it is represented with very beautifully and the melodious vocal of the Deepesh decorate it with back power. Dipesh K. Bhattarai is the Nepalese star and contributed lot in Nepali music. Some of his musical hits such as Hosh Haraye Pani, Fortunes, Forever were the best albums and they were able the stay in Heart of the listeners. When you once listen this song, I am sure you will keep tuning it.
The music video is released officially online by allnepalnews via Youtube. Hope that you will enjoy this melodious pop song Maya Malai.

Here is the lyrics for the song Maya Malai:
Maya malai gara ya nagara
Ma timilai maya garchhu
Maya malai gara ya nagara
Ma timilai maya garchhu
Malai thaha chha ya paagal pan ho
Tyahi pani ma timilai maya garchhu
Maya malai gara ya nagara
Ma timilai maya garchhu
Maya malai gara ya nagara
Ma timilai maya garchhu
Malai thaha chha ya paagal pan ho
Tyahi pani ma timilai maya garchhu

Kati holan timi lai herne
Kati holan timi lai rojne
Kati holan timi lai herne
Kati holan timi lai rojne
Jahan jaau kahin bhetne chhainau
Majati ko timlai maya garne
Maya malia gara ya nagara
Ma timilia maya garchhu
Maya malia gara ya nagara
Ma timilia maya garchhu
Malai thaha chha ya paagal pan ho
Tyahi pani ma timilai maya garchhu
Maya malia gara ya nagara
Ma timilia maya garchhu
Maya malia gara ya nagara
Ma timilia maya garchhu
Malai thaha chha ya paagal pan ho
Tyahi pani ma timilai maya garchhu hu