Mero Komal Mutu by Melina Rai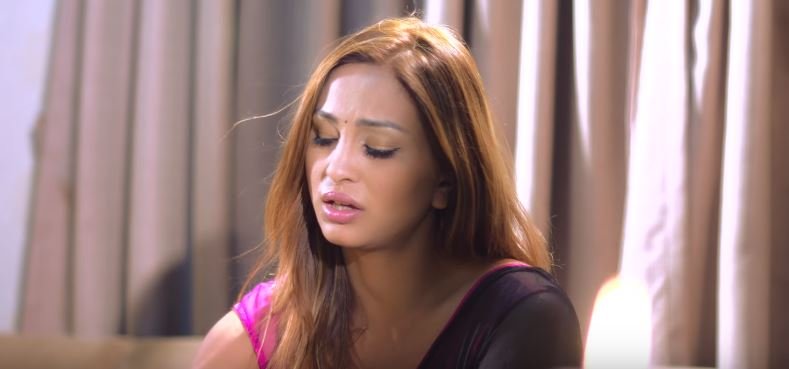 Mero Komal Mutu is a new Nepali sentimental song by Melina Rai. The music video features Anu Shah and Shankar Baniya. Mero Komal Mutu is a Nepali song which is directed by Sangeet Baniya. The music video was edited by Sangeet Baniya and music video was cinematographed by Janakraj Adhikari.
The lyrics as well as music for this song was composed by Rameshraj Bhattarai. The music video features versatile model Anu Shah. Anu Shah is a hot and sexy model who has given her best performance for making this music video good. The melodious voice is given by Melina Rai. Nepali singer Melina Rai is playback singer. Melina Rai's voice is as beauty as her personal appealing. This music video shows romantic love story. When you once listen this song, I am sure you will keep repeating it.
The music video is released officially online by Music Nepal via Youtube. Hope that you will enjoy this sentimental song Mero Komal Mutu.
Here is the lyrics for Mero Komal Mutu:
Sayad ma bhanda ramro
Bhetera gayau

Mero komal yo mutu ritera gayau
Mero komal yo mutu ritera gayau
Sayad ma bhanda ramro
Bhetera gayau
Sayad ma bhanda ramro
Bhetera gayau
Sayad ma bhanda ramro
Bhetera gayau
Sayad Sayad sayad ma bhanda ramro
Bhetera gayau
Sayad ma bhanda ramro
Bhetera gayau …….

Ridayeko paana bhari
Ridayeko paana bhari
Timrai name cha bhantheyau
bhantheyau bhantheyau
Ridayeko paana bhari
Timrai name cha bhantheyau
bhantheyau bhantheyau
Dui din mai mero name
Mitera gayau
Dui din mai mero name
Mitera gayau
Sayad ma bhanda ramro
Bhetera gayau
Sayad ma bhanda ramro
Bhetera gayau
Sayad Sayad sayad
Ma bhanda ramro
Bhetera gayau
Sayad ma bhanda ramro
Bhetera gayau……..

Najau bhanda bato chekera

Najau bhanda bato chekera
Binti gare kati kati kati
Najau bhanda bato chekera
Binti gare kati kati kati
Akhir merai chatti ma
Tekera gayau
Akhir merai chatti ma
Tekera gayau
Sayad ma bhanda ramro
Bhetera gayau
Sayad ma bhanda ramro
Bhetera gayau
Sayad Sayad sayad
Ma bhanda ramro
Bhetera gayau
Sayad ma bhanda ramro
Bhetera gayau………

Maya garne mutu bhayek

Maya garne mutu bhayek
K theyora ma sanga
Ma sanga Ma sanga Ma sanga
Maya garne mutu bhayek
K theyora ma sanga
Ma sanga Ma sanga Ma sanga
K bhayeko rito ma
Dhekhara gayau
K bhayeko rito ma
Dhekhara gayau
Sayad ma bhanda ramro
Bhetera gayau
Sayad ma bhanda ramro
Bhetera gayau
Sayad Sayad sayad
Ma bhanda ramro
Bhetera gayau
Sayad ma bhanda ramro
Bhetera gayau………………