Mero Man by Yashoda Khaling Rai & Bisso Tenzing Ft. Sampada Baniya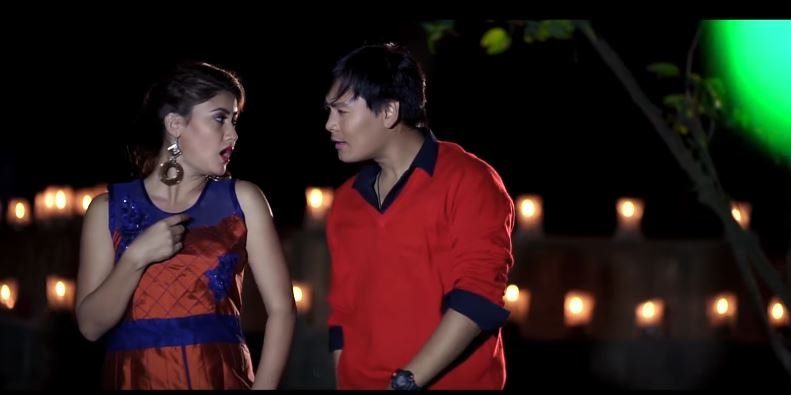 Mero Man Aljiyacha is a New Aadhunik Nepali Romantic pop song from Album "YASHODA – 2". The music video features Sampada Baniya and Yogendra. Mero Man Aljiyacha is a Nepali song by Yashoda Khaling Rai and Bisso Tenzing which is directed by Nava Dhungel. Mero Man Aljiyacha was edited by Madhab Belbase.
The music of this song was composed by NB Dahal and lyrics was given by Gita Khatri. The music video is featuring by versatile Sampada Baniya. She has appeared in numerous music videos, television commercials and print ads. She is one of the established model of Nepali music video industry. Mero Man Aljiyacha music video is choreographed by Bhuwan Syanbo Tamang.
The music video is released officially online by SongsNepal via Youtube. Hope that you will enjoy this Melodious pop Song Mero Man Aljiyacha.

Here is the lyrics for the song:
Mero Man Aljiyacha
Timro chaubandi choli ma

Mero Man Aljiyacha
Timro chaubandi choli ma
Rakhidau na lajai na mani
Rakhidau na lajai na mani
Mann ko jholi ma
Rakhidau na lajai na mani
Mann ko jholi ma

Mero mann aljiyacha
Timro chapara bolima
Mero mann aljiyacha
Timro chapara bolima
Rakhidiula timro maya
Rakhidiula timro maya
Mann ko jholi ma
Rakhidiula timro maya
Mann ko jholi ma…

Jali rumal Sati sati
Maya lau jhai lagcha

Jali rumal Sati sati
Maya lau jhai lagcha
Preeti ko phool mann bitra
Preeti ko phool mann bitra
Phula jasto lagcha
Phula jasto lagcha
Mero Man Aljiyacha
Timro chaubandi choli ma

Mero Man Aljiyacha
Timro chaubandi choli ma
Rakhidau na lajai na mani
Rakhidau na lajai na mani
Mann ko jholi ma
Rakhidau na lajai na mani
Mann ko jholi ma…

Mero haso timro otha ma
Kheli raya pugacha

Mero haso timro otha ma
Kheli raya pugacha
Preeti ko phool mann bitra
Preeti ko phool mann bitra
Phula jasto lagcha
Phula jasto lagcha
Mero mann aljiyacha
Timro chapara bolima
Mero mann aljiyacha
Timro chapara bolima
Rakhidiula timro maya
Rakhidiula timro maya
Mann ko jholi ma

Mero Man Aljiyacha
Timro chaubandi choli ma

Mero Man Aljiyacha
Timro chaubandi choli ma
Rakhidau na lajai na mani
Rakhidau na lajai na mani
Mann ko jholi ma
Rakhidiula timro maya
Mann ko jholi ma
Rakhidau na lajai na mani
Mann ko jholi ma
Rakhidiula timro maya
Mann ko jholi ma
Rakhidau na lajai na mani
Mann ko jholi ma……