Mutu Bhitra Timilai by Pramod Kharel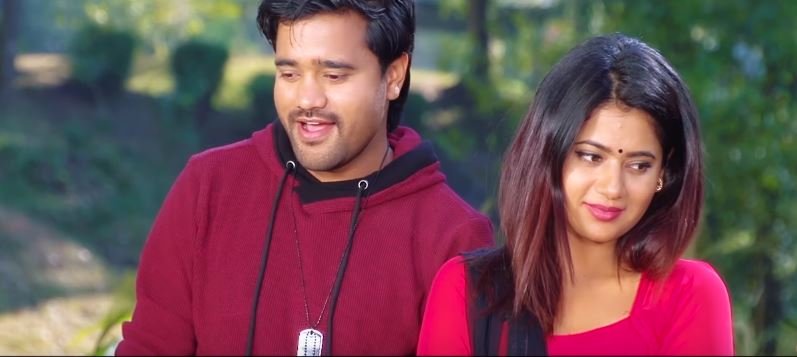 Mutu Bhitra Timilai is a New Aadhunik Nepali Melodious pop song by Pramod Kharel. The music video features Keki Adhikari and Sanam Kathayat. Mutu Bhitra Timilai is a Nepali song by Pramod Kharel which is directed by Ananta Timilsina. Mutu Bhitra Timilai music video was edited by Tekendra Shah.
The music of this song was composed by Padam Rokaya and lyrics was written by Chakra Karki. The music video is featuring by versatile actress Keki Adhikari. She is also known as Queen of music video of Nepal. She has appeared in numerous music videos, television commercials, print ads and more than a dozen of Nepali movies. In this music video, Sanam Kathayat express his internal feeling towards actress Keki Adhikari. Sanam Kathayat Want to marry with Keki Adhikari.
The music video is released officially online by Music Nepal via Youtube. Hope that you will enjoy this Melodious pop Song Mutu Bhitra Timilai.

Here is the lyrics for the song:
Mutu Bhitra Timilai
Sajhauna mann cha

Mutu Bhitra Timilai
Sajhauna mann cha
Risauda ni maya gari
Phakhauna mann cha
Timro maya paena bhane
Paena bhane
Timro maya paena bhane
Yo mann na la
Marchu bhancha
Yo manna la
Marchu bhancha
Mutu Bhitra Timilai
Sajhauna mann cha…

Duniya la j bhanani
hooo
Duniya la j bhanani
Hamro maya lai
Hamro maya lai
Yo jiwan ma
Timi lai nai
Yo jiwan ma
Timi lai nai
Afno bhanauna
Mann cha
Afno bhanauna
Mann cha
Mutu Bhitra Timilai
Sajhauna mann cha…

Socha jasto
Jindagi ma
hooo
Socha jasto
Jindagi ma
Bhaediyo bhane
Bhaediyo bhane
Sindur hali
Dil ko rani
Sindur hali
Dil ko rani
Bhanauna mann cha
Bhanauna mann cha
Mutu Bhitra Timilai
Sajhauna mann cha………