Mutu Bhitra Timro Dhadkan By Sanjeev Pradhan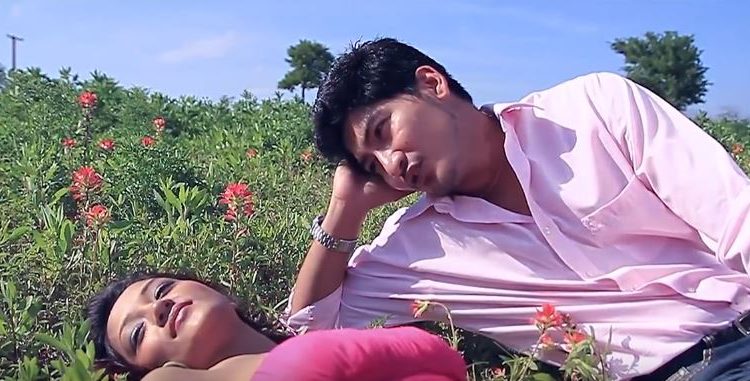 Mutu Bhitra Timro Dhadkan is a Nepali romantic pop song by talented singer Sanjeev Pradhan. The music video is directed by Anoj KC. Mutu Bhitra Timro Dhadkan was edited by Shoyambhu Shakya and Shoyambhu himself handled the cinematography.
Mutu Bhitra Timro Dhadkan is a romantic pop song that describes how much he loves his girlfriend. This music video features Aman Bajracharya and Nurja Shrestha. Nurja looks very gorgeous and beautiful in this song. The lyrics for the song was written by Pankaj and the music was composed by Maharaj Thapa. And the makeup was done by Rajani Sharma. This music video about the addition to the love and also tries to explain that man who fall in love from his heart he can do anything possible for his girlfriend. This is very awesome song and the voice has given by Sanjeev Pradhan. Once, you listen to this song you keep repeating it.
The video is officially released online by Bodhi Creation via YouTube. Do watch the video from here:
Here is the lyrics for the song Mutu Bhitra Timro Dhadkan:
Mutu Vitra tmro dhadkan
Bani rahana sakchhu ma ta
Tmro harek sabai
Pir betha
Sahana sakchhu ma ta
Tmi vani deu matrai
Trmo chahana
K k bani dina sakchhu ma ta
Mutu Vitra tmro dhadkan….

Fulai ful bani tmro jibanma
Mausam vari fuli diu ki
Garmi vaye barsat liee
Badala sari fuli diu ki
Ratma pani chhaya vae
SAdhai satha huna sakchhu
Bedanaharule mutu fate ni
Aansu bani runa sakchhu
Tmi boli deu matrai
Tmro chahana k k
Bani dina sakchu ma ta
Mutu Vitra tmro dhadkan…..

Sathi banau sadhaiko lagi
Sapanama ranga vari dinchhu
Jindagiko har palaharuma
Khusi nai khusi chhari dinchhu
Lamo nai chha ni yatraharu
Paila bani hidna sakchhu
Kunai pani badhaharusanga
Eklai aba vidna sakchhu
Tmi sochi deu matrai
Tmro chahana k k
Gari dina sakchhu ma ta
Mutu Vitra tmro dhadkan…….