Na Hunchha Bhanchhe by Ram Krishna Dhakal Ft. Nikki Pandey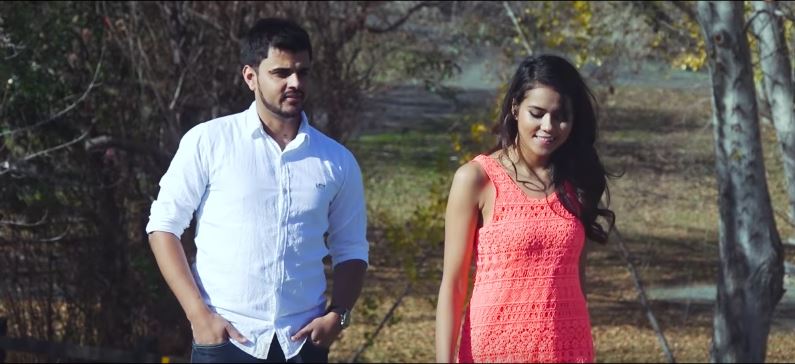 Na Hunchha Bhanchhe is a New Nepali Romantic Aadhunik pop song from Album "Aawaran". The music video features Nikki Pandey & Sandip Kandel. Na Hunchha Bhanchhe is a Nepali song by Ramkrishna Dhakal which is directed by Prasanna Paudel. Na Hunchha Bhanchhe music video was edited by Nishan Ghimire.
The music of this song was composed by Nhyoo Bajracharya and lyrics of this song was written by Uttam Sanjel. Ramkrishna Dhakal is one of the most popular and talented pop, playback singer and actor. Ramkrishna Dhakal is consider as second late NaranyanGopal, who is respected as the king of melody in the Nepali music world. He has released many albums of modern songs among them "Aawaran" is one of the collection of  best song album of him.
The music video is released officially online by Bindabasini Music via Youtube. Hope that you will enjoy this Melodious Aadhunik pop song Na Hunchha Bhanchhe.

Here is the lyrics for the song:
Na hunchha bhanchhau
Na hunna bhanchhau

Na hunchha bhanchhau
Na hunna bhanchhau
Na hunchha bhanchhau
Na hunna bhanchhau
Bheta huda sadai bhari
Aakash chunchhau
Tara pani lagcha
Malae Merai hunchhau
Tara pani lagcha
Malae Merai hunchhau…

Anauthi chhau
Nikai sarmauchha
K bhanna khojhayo
Tastai tasai darauchha

Anauthi chhau
Nikai sarmauchha
K bhanna khojhayo
Tastai tasai darauchha
Tasai darauchha
Na chau mai auchau
Na tadha janchhau
Na chau mai Auchau
Na tadha Janchhau
Chuna khojhada
Sadai bhari
Tadha bhanchhau
Tara pani lagcha
Malae merai hunchhau
Tara pani lagcha
Malae merai hunchhau…

Jiwana hamro
Gham pani ho
Bhagya la dorae
Kata lane ho

Jiwana hamro
Gham pani ho
Bhagya la dorae
Kata lane ho
Maya kata lane ho
Na preeti lauchhau
Na geetai gauchhau
Na preeti lauchhau
Na geetai gauchhau
Hamlai kae thaha chaena
Matrai bhanchhau
Tara pani lagcha
Malae merai hunchhau
Tara pani lagcha
Malae merai hunchhau……