Nacha Nacha by Hemant Sharma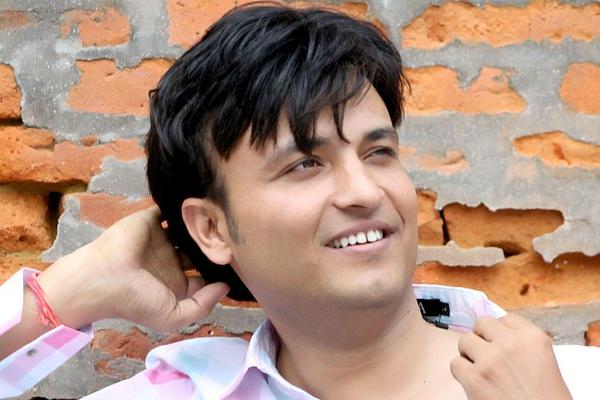 Nacha Nacha is a Nepali melodious modern song from album "Mandir". The music video features Keki Adhikari. Nacha Nacha is a Nepali song by Hemant Sharma which is directed by Alok Nembang. The music video was edited by Prakash Tuladhar and was cinematographed by Bidur Pandey and Roshan Shrestha.
The lyrics as well as music for this song is composed by Suresh Adhikari. The music video features versatile actress Keki Adhikari. She is also known as Queen of music video of Nepal. Actress Keki Adhikari has played as a  lead role in this music video. Nepali singer Hemant Sharma is one of the most popular singer among the Nepali Music Lovers. Blessed with a golden voice, he has touched the hearts of millions with his songs. When you once listen this song, I am sure you will keep repeating it.
The music video is released officially online by Music Nepal via Youtube. Hope that you will enjoy this melodious modern song Nacha Nacha.
Here is the lyrics for song Nacha Nacha:
Aahai pakhuri tanin chha
Nacha nacha nacheshi
Janinchha jaininchha
Nanacheko pakhuri tanin chha
Ahai aja nai ho
Pakhuri taninchha
Ahai aja nai ho
Pakhuri taninchha

Nacha nacha nacheshi
Janinchha jaininchha
Nanacheko pakhuri tanin chha
Ahai aja nai ho
Pakhuri taninchha
Ahai aja nai ho
Pakhuri taninchha… …..

Haasa khela garu ajai
Bhet huda khari

Ho Haasa khela garu ajai
Bhet huda khari
Ghari ghari yesto
Mauka audaina feri
Manna parne manchhe
Tara lajaune bani
Chhekiyera basepani
Aja chhani chhani
Ahai aja nai ho
Pakhuri taninchha
Ahai aja nai ho
Pakhuri taninchha………

Diki nachne dikichouka
Jaato fana fani

Ahai Diki nachne dikichouka
Jaato fana fani
Nacho hamro sarai ramro
Berata gari
Koi china sano thulo
Sabai bara bari
Najane le ni bhachha kamar
Jaane jasari
Ahai aja nai ho
Pakhuri taninchha
Ahai aja nai ho
Pakhuri taninchha

Nacha nacha nacheshi
Janinchha jaininchha
Nanacheko pakhuri tanin chha
Ahai aja nai ho
Pakhuri taninchha
Ahai aja nai ho
Pakhuri taninchha
Ahai aja nai ho
Pakhuri taninchha
Ahai aja nai ho
Pakhuri taninchha…………