Natak Raichha (Audio) by Melina Rai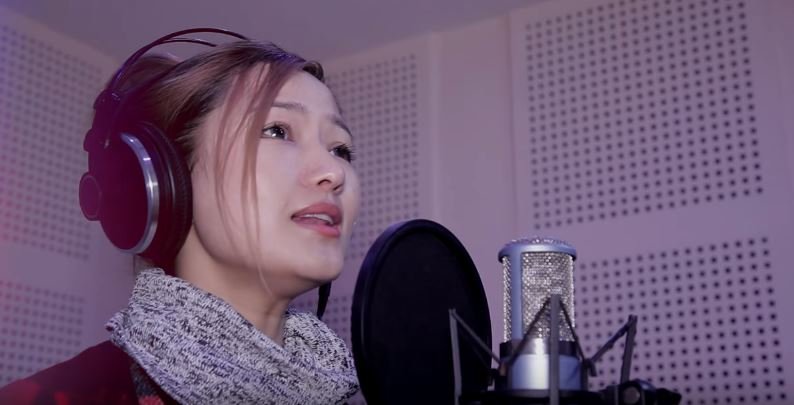 Natak Raichha is a New Aadhunik Nepali Melodious pop song by Melina Rai. This music video is just a simple recording version during the recording of the song. Natak Raichha song was directed as well as edited by Ramesh Sangroula.
The music of this song is composed by CD Vijaya Adhikari and lyrics of this song was written by Pramod Bhandary. Nepali singer Melina Rai is playback singer. Melina Rai's voice is as beauty as her personal appealing. She is known as the queen of  Nepali music Industry. Natak Raichha shows that Everybody knows how to love but few people know how to stay in love with one person forever. Here, Melina Rai cannot able to prove his true love so her partner has leave her alone. When you once listen this song, I am sure you will keep repeating it.
The music video is released officially online by CDM Music Creation via Youtube. Hope that you will enjoy this Melodious Aadhunik pop Song Natak Raichha.

Here is the lyrics for the song:
Mero chokho maya
Jiudai ratiyo
Timro dil ma
Arkai manche bhetiyo
Mero chokho maya
Jiudai theyo
Timro dil ma
Arkai manche bhetiyo
Natak raichha timro maya
Dauta dhoge maela
Antai dil ma phulai timi
Kasto bhoge maela
Tesai la aja mero
Halat kharab bho
Halat kharab bho
Halat kharab bho
Halat kharab bho
Halat kharab bho
Tesai la aja mero
Halat kharab bho
Sugul la na hana
Aba Ae saraba bho
Sugul la na hana
Aba Ae saraba bho
Mero chokho maya
Jiudai ratiyo
Timro dil ma
Arkai manche bhetiyo
Mero chokho maya
Jiudai ratiyo
Timro dil ma
Arkai manche bhetiyo…

Chodi gayau
Aba timilai
kae bhannu chaena
Chodi gayau
Aba timilai
kae bhannu chaena
Chokho maya garda pani
Timro manche bhaena
Chokho maya garda pani
Timro manche bhaena
Tesai la aja mero
Halat kharab bho
Halat kharab bho
Halat kharab bho
Halat kharab bho
Halat kharab bho
Tesai la aja mero
Halat kharab bho
Sugul la na hana
Aba Ae saraba bho
Sugul la na hana
Aba Ae saraba bho
Mero chokho maya
Jiudai ratiyo
Timro dil ma
Arkai manche bhetiyo
Mero chokho maya
Jiudai ratiyo
Timro dil ma
Arkai manche bhetiyo…

Merai dil ma nama
Lakhayerai chadau timila
Kasto huncha maya
Dhekhayerai chadau timila
Kasto huncha maya
Dhekhayerai chadau timila
Kasto huncha maya
Dhekhayerai chadau timila
Tesai la aja mero
Halat kharab bho
Halat kharab bho
Halat kharab bho
Halat kharab bho
Halat kharab bho
Tesai la aja mero
Halat kharab bho
Sugul la na hana
Aba Ae saraba bho
Sugul la na hana
Aba Ae saraba bho
Mero chokho maya
Jiudai ratiyo
Timro dil ma
Arkai manche bhetiyo
Mero chokho maya
Jiudai ratiyo
Timro dil ma
Arkai manche bhetiyo…