Padhi Lekhi By Lopsang Choiden Sherpa (6 Years Girl)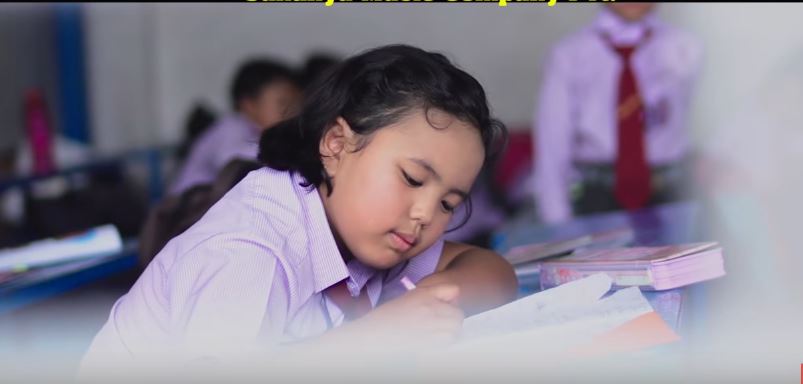 Padhi lekhi is a New Melodious Aadhunik Nepali Song by A Young Child Singer Lopsang Choiden Sherpa. The music video features Model are Lopsang Choiden Sherpa, Tshiring Sherpa, Yangzoom Sherpa and Racha Khadka. Padhi lekhi is a Nepali song by Lopsang Choiden Sherpa which is directed by Bichal Kirati. Padhi lekhi music video was edited by T.B. Thapa.
The music of this song is composed by Buddha Rai and lyrics was given by Bhanubhakta Dhakal. The vocal of this song was A Young 6 year Child. From this song, She want to express the message about that to be a great person in the future we must Study hard. Everyone would agree that education is a fundamental way of life so be a laborious person.
The music video is released officially online by SongsNepal via Youtube. Hope that you will enjoy this Melodious Aadhunik Song Padhi lekhi.

Here is the lyrics for the song:
Bholi malae aakasha ko
Chandra chunu cha..

Bholi malae aakasha ko
Chandra chunu cha
Padhi lekhi dherai thulo
Mancha hunu cha
Padhi lakhi dherai thulo
Mancha hunu cha
Padhi lakhi dherai thulo
Mancha hunu cha
Bholi malae aakasha ko
Chandra chunu cha
Padhi lakhi dherai thulo
Mancha hunu cha…

School janchu
Padhachu lakhachu
Ramaelo dherai
School janchu
Padhachu lakhachu
Ramaelo dherai
School pani lagcha malae
Ghar ho merai
Ramro ramro kura shiki
Aagi badhanu cha
Ramro ramro kura shiki
Aagi badhanu cha
Bholi malae aakasha ko
Chandra chunu cha
Padhi lakhi dherai thulo
Mancha hunu cha…

Gyangun ka kura
Shikaunu huncha guru…

Gyangun ka kura
Shikaunu huncha guru
Padha lakha bhannu huncha
Manchu khuru khuru
Agyanta lai gyanai gyan la
Ajai dhunu cha
Agyanta lai gyanai gyan la
Ajai dhunu cha
Bholi malae aakasha ko
Chandra chunu cha
Padhi lakhi dherai thulo
Mancha hunu cha…