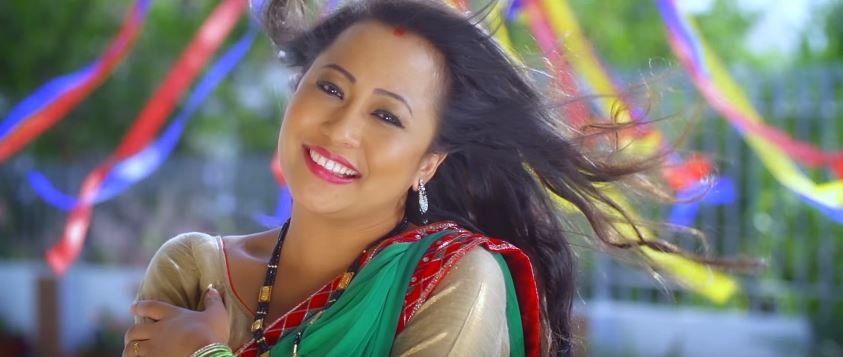 Raharharu is a Nepali modern song by Himal Sagar. The music video features Himal Sagar and Bipana. Raharharu is a Nepali song which is directed by Arjun Adhikari. The music video was edited by Nishan Ghimire and was cinematographed by Hari Humagain.
The music for this song was composed by Himal Sagar and lyrics was written by Narayan Gautam. The music video features versatile model Bipana. Bipana is a hot and sexy model who has given her best performance for making this music video good. The melodious voice was given by Himal Sagar. This music video shows romantic love story between Himal Sagar and Bipana. Ovreall, This music tries to represent the important of love, relation of lovers and other promise of love.The music video was arranged by Sanjay Hama. When you once listen this song, I am sure you will keep repeating it.
The music video is released officially online by ASIAN MUSIC via Youtube. Hope that you will enjoy this aadhunik song Raharharu.
Here is the lyrics for Raharharu:
Rahar haru thati rakhi
Jiune bani timro

Rahar haru thati rakhi
Jiune bani timro
Ashu haru lukayera
Ashu haru lukayera
Hasne bani ramro
Hasne bani ramro
Rahar haru thati rakhi
Jiune bani timro………..

Obanochhan aakha haru
Bhariyako dhekhiyena
Sajilai sanga chahana
Kulchine bhetiyena
Kulchine bhetiyana
Bhokai basi arulai
Khuwaune bani jati
Kun sanjok le payachhu
Kun sanjok le payachhu
Timilai jiban sathi
Timilai jiban sathi………

Abiral chhan paela haru
Rokiyena kahile pani
Jatinai thulo dhukha hos
Dekyachhina royeko ni
Dekyachhina royeko ni
Najik aaye khotyara
Sodne bhani nikho
Ada jiban paya timro
Ada jiban paya timro
Yasai gari bhitosh jiban
Yasai gari bhitosh jiban
Raharharu thati rakhi
Jiune bani timro…………