Saanai Chhada By Sanjeev Pradhan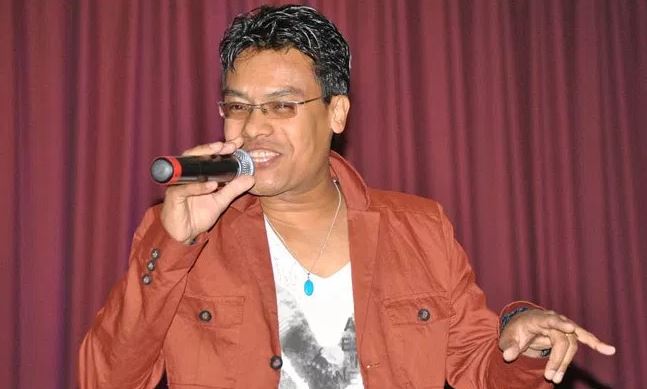 Saanai Chhada is a sentimental pop song by Sanjeev Singh. Sanjeev Singh is the one of the best singer and have lots of fans. In this music video Sanjeev tries to express the agony and pain because of he have to leave his own country because of economic country.
The music for this song was composed by Sanjeev Singh and lyrics was also written by Sanjeev Singh himself. He tries to explain the situation of Nepal from his music video that is unemployment and the condition of the Nepali young man power. Sanjeev's soul touching songs like Chulesima, Meri Maya, Gori Eta Sunana, Ramailo Cha Yo Sanjha, etc. are still on the lips of many music lovers. Calling him merely a singer is not enough as he is also one of the good composers in Nepali music industries and most of his songs and many other songs have been composed by him. He went to UK, leaving Nepal, for his personal reasons, however, his passion for music could not let him stay too long. When you once listen this song, I am sure you will keep repeating it.
The music video is released officially online by gorkhali nepali via Youtube. Hope that you will enjoy this melodious song.
Here is the lyrics for the song Saanai Chhada:
Saanai chhada rahar le
Muglaan pani kaate
Baisa sabai laahurmaa
Aasu jhaari kate
Saanai chhada rahar le
Muglaan pani kaate
Baisa sabai laahurmaa
Aasu jhaari kate
Laaune khaane umer sabai
Rahar mai kaate
Ma ta ekalkaate hajur
Pirati le maare
Ma ta ekalkaate hajur
Aafanta le maare

Saan hunthe gaau gharmaa
Laahurmaa chhada
Chameli ta nachchhin are
Merai kura huda
Saan hunthe gaau gharmaa
Laahurmaa chhada
Chameli ta nachchhin are
Merai kura huda
Panche baja bajaaula
Gharjam pani garaula
Yehi sochdai dinharu
Sabai tesai kaate
Ma ta ekalkaate hajur
Pirati le maare
Ma ta ekalkaate hajur
Aafanta le maare

Aghi pachhi ke ke soche
Baisa mero chhada
Aafno bhanne kohi chhiana
Aaja eklo huda
Aghi pachhi ke ke soche
Baisa mero chhada
Aafno bhanne kohi chhiana
Aaja eklo huda
Haasi kheli bitaaula
Ramailo garaula
Yehi sochdai dinharu
Sabai tesai kaate
Ma ta ekalkaate hajur
Pirati le maare
Ma ta ekalkaate hajur
Aafanta le maare

Saanai chhada rahar le
Muglaan pani kate
Baisa sabai laahurmaa
Aasu jhaari kaate
Saanai chhada rahar le
Muglaan pani kate
Baisa sabai laahurmaa
Aasu jhaari kaate
Laaune khaane umer sabai
Rahar mai kaate
Ma ta ekalkaate hajur
Pirati le maare
Ma ta ekalkaate hajur
Aafanta le maare
Ma ta ekalkaate hajur
Pirati le maare
Ma ta ekalkaate hajur
Aafanta le maare
Ma ta ekalkaate hajur
Pirati le maare
Ma ta ekalkaate hajur
Aafanta le maare