Sadhai Maya by Swaroop Raj Acharya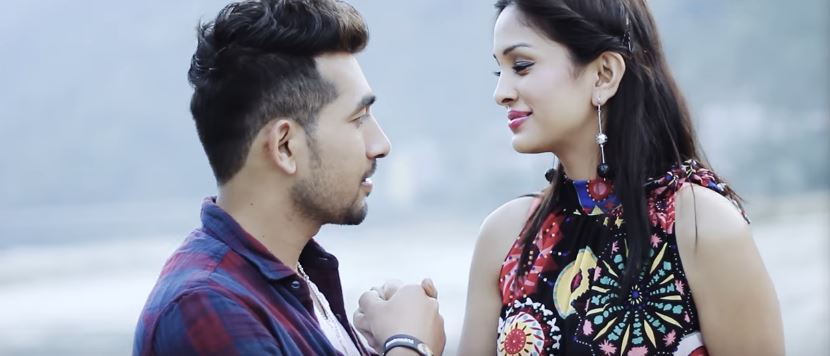 Sadhai Maya is a New Melodious Aadhunik Nepali pop Song by Swaroop Raj Acharya. The music video features by Anu Shah and Ashok. Sadhai Maya is a Nepali song by Swaroop Raj Acharya which is directed by Ratan Joshi. Sadhai Maya music video was edited by Nishan Ghimire and music video was Cinematographed by Nabin K Shrestha.
The music of this song is composed by Arjun Pokhrel and lyrics of this song was written by Laxman Bhandari. Swaroop Raj Acharya was a playback singer. He has given his Melodious voice for many films and Nepali melodious songs. Sadhai Maya is a romantic pop song in which we can see the romance between Ashok and a hot model Anu Shah. This is an era in which we entertainment by music so Keep Loving Nepali Music. When you once listen this song, I am sure you will keep repeating it.
The music video is released officially online by Music Nepal via Youtube. Hope that you will enjoy this Melodious pop Aadhunik Song Sadhai Maya.

Here is the lyrics for the song:
Sadhai maya gari
Rahu timilai
Yo dil ma sajhae
Rahu timilai

Sadhai maya gari
Rahu timilai
Yo dil ma sajhae
Rahu timilai
Timi ta mann
Parako manche
Mannai dhekhi maya
Garako manche
Timi ta mann
Parako manche
Mannai dhekhi maya
Garako manche…

Chandra ma ko
Jyoti charna
Subasili seta timi

Chandra ma ko
Jyoti charna
Subasili seta timi
Koeli ko bhaka
Bolna sumadhur
Geeta timi
Geeta timi
Sadai satha pae
Rahu timilai
Yo dil ma sajhae
Rahu timilai
Timi ta mann
Parako manche
Mannai dhekhi maya
Garako manche
Timi ta mann
Parako manche
Mannai dhekhi maya
Garako manche…

Jati hero heri
Rahu na chutna
Najar ma

Jati hero heri
Rahu na chutna
Najar ma
Bhagya cha ki
Chaena kun ni sajhauna
Aadhar ma
Aadhar ma
Sadai preet lae
Rahu timilai
Yo dil ma sajhae
Rahu timilai
Timi ta mann
Parako manche
Mannai dhekhi maya
Garako manche
Timi ta mann
Parako manche
Mannai dhekhi maya
Garako manche

Sadhai maya gari
Rahu timilai
Yo dil ma sajhae
Rahu timilai
Timi ta mann
Parako manche
Mannai dhekhi maya
Garako manche
Timi ta mann
Parako manche
Mannai dhekhi maya
Garako manche……