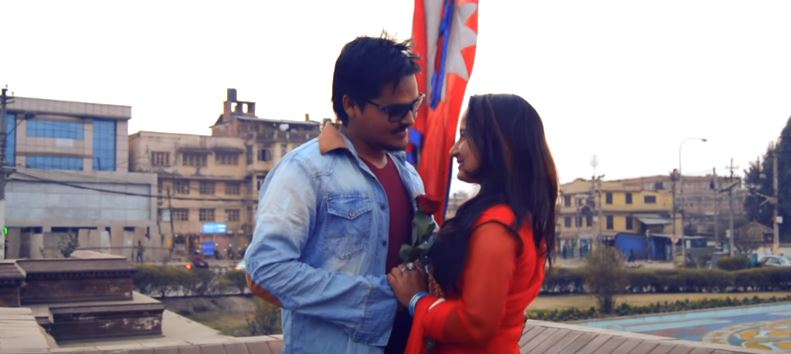 Saila is a New Nepali Aadhunik Melodious Sentimental Pop Song from Album "DHAIRYA". The music video features Manjula Giri and Rajesh Acharya. Saila is a Nepali song by Tara Thebe limbu which is directed by Bhola Timalsina. Saila music video was cinematographed as well as edited by Shantosh Tungbahanghpe.
The music as well as lyrics of this song is composed by Dambar Nepali. The music video is featuring by versatile model Manjula Giri. Saila is sentimental pop song. Saila is a painful song which want to show the pain when someone leave you alone in this dark world of love. The music Video of Saila was Production by Everest Gallery. When you once listen this song, I am sure you will keep repeating it.
The music video is released officially online by SongsNepal via Youtube. Hope that you will enjoy this sentimental pop Song Saila.

Here is the lyrics for the song:
K gardai chau hoo
Saila malae bhulara
K gardai chau hau
Saila malae bhulara
Mero maya lai chodara
Bato anatai tira modhera
Mero maya lai chodara
Bato anatai tira modhera
Pherkinau saila
Malae samjhara
K gardai chau hoo
Saila malae bhulara…

Dil ko maya
Dilai ma rayo
Mann ko kura
Manai ma

Dil ko maya
Dilai ma rayo
Mann ko kura
Manai ma
Chokho maya
Garchu bhantheyau
Bhuli gayau
Hau chinai ma
Chokho maya
Garchu bhantheyau
Bhuli gayau
Hau chinai ma
K gardai chau hoo
Saila malae birsera…

Samaudai bhanau
Ye haat haru
Timro dherai
Maya lagcha

Samaudai bhanau
Ye haat haru
Timro dherai
Maya lagcha
Bhula pani malae
Timila malae timro
Nai yad aucha
Bhula pani malae
Timila malae timro
Nai yad aucha
K gardai chau hoo
Saila malae birsera
Mero maya lai chodara
Bato anatai tira modhera
Mero maya lai chodara
Bato anatai tira modhera
Pherkinau saila
Malae samjhara
K gardai chau hoo
Saila malae bhulara……