Samhalera Rakhchu Khushi by Narendra Pyasi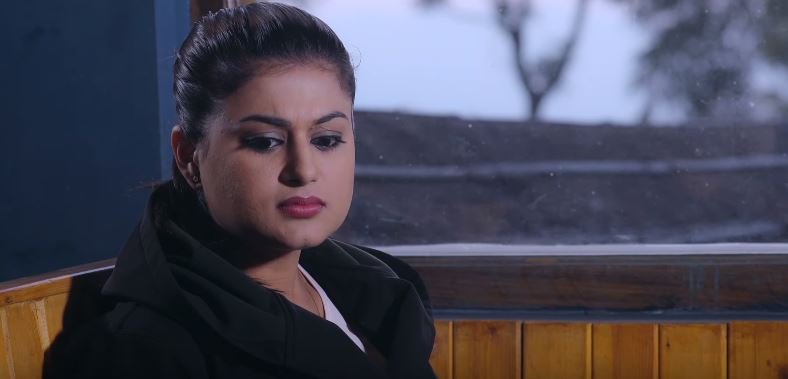 Samhalera Rakhchu Khushis a new sentimental song by Narendra Pyasi. The music video features Shilpa Pokharel, Shyam Shrestha, Mohan Chamling and Kritika Bhattarai. This music video is directed by Sabnam Mukhiya. The music video was cinematographed by Birendra Bhatta and edited by Tara Thapa "Kimvhey".
The lyrics and music for the song was composed by Santosh Shrestha. This song features versatile actress Shilpa Pokharel. Shilpa Pokharel is beautiful and rising model and performed hundreds of music videos and some Nepali films too. Samhalera Rakhchu Khush is a sentimental song which shows that without trust there is no relationship. This music video also shows the pain caused by love after something went wrong in relationship. This song also wants to say that sometimes we have to be strong enough to hold the pain given by our love. When you once listen this song, I am sure you will keep tuning it.
The music video  is released officially online by Music Nepal via Youtube. Hope that you will enjoy this melodious sentimental song Samhalera Rakhchu Khush.

Here is the lyrics for Samhalera Rakhchu Khush:
Samhalera Rakhchu Khushi
Pokhincha ki katai
Sisha jhai jhan sapana haru
Thokincha ki katai

Samhalera Rakhchu Khushi
Pokhincha ki katai
Sisha jhai jhan sapana haru
Thokincha ki katai
Timrai lagi sachako chhu
Bhako mutu mero
Timrai lagi sachako chhu
Bhako mutu mero
Chalda chaldai dhadkan bichmai
Rokincha ki katai
Chalda chaldai dhadkan bichmai
Rokincha ki katai……

Herdai jau mero yaad ma
Runu bhanauchhu
Jiban bhari pachuto ma
Hune bhanauchhu

Herdai jau mero yaad ma
Runu bhanauchhu
Jiban bhari pachuto ma
Hune bhanauchhu
Photo chiyati aago balna
Timra haat haru
Photo chiyati aago balna
Timra haat haru
Harek pal ma merai tasbir
Chune bhanauchhu
Harek pal ma merai tasbir
Chune bhanauchhu……

Mero prem ko aabhar timilai
Mahasusa garaune chhu
Hajarau ko bhid ma
Malae dhekhana banaunechhu

Mero prem ko aabhar timilai
Mahasusa garaune chhu
Hajarau ko bhid ma
Malae dhekhana banaunechhu
Khasa bhekti jibana ma
Sadai ma hune chhu
Khasa bhekti jibana ma
Sadai ma hune chhu
Bichod ma ruda mero
Sansar basae sakne chhu
Bichod ma ruda mero
Sansar basae sakne chhu………