Sansarai Payera by Swaroop Raj Acharya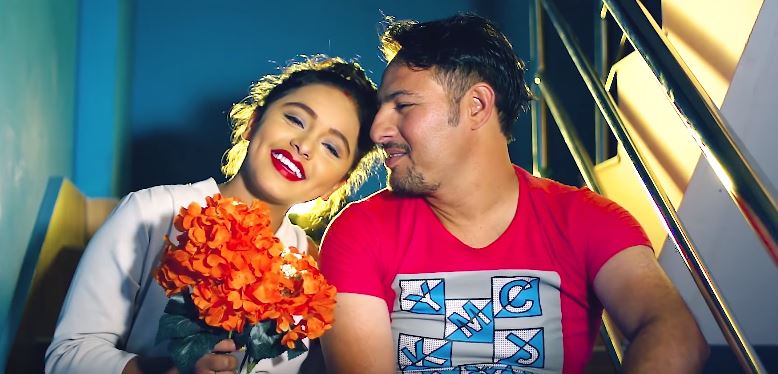 Sansarai Payera is a Nepali sentimental song by Swaroop Raj Acharya. The music video features Karishma Dhakal and Suraj Khanal. The music video is directed by Bikram Chauhan. This music video was edited by Milan BK and was cinematographed by Prakash Khadka.
The lyrics for the song was written by Debendra Puware and music for the song was composed by BB Anuragee. The music video features hot and gorgeous model Karishma Dhakal. She is a hot, sexy and dazzling model who has given her best performance in this music video with another stunning well known artist Suraj Khanal. She has performed numerous other music videos which are loved by so many peoples. In this music video, we can see the love and romance between Karishma and Sanam Kathayat. The vocal for this song was given by Swaroop Raj Acharya. He is a Nepali singer and music-composer. He is one of the best known singer of Nepal. When you once listen this song, I am sure you will keep chanting it.
The music video is released officially online by Music Video via Youtube. Hope that you will enjoy this melodious sentimental song Sansarai Payera.
Here is the lyrics for Sansarai Payera:
Sansarai Payera k
Garnu jaba timi
Chayenau bhana
Sansarai Payera k
Garnu jaba timi
Chayenau bhana
Bhautik sukha la k
Dina sakcha
Bhautik sukha la k
Dina sakcha
Mann ma khusi mildaina
Bhana
Sansarai Payera k
Garnu jaba timi
Chayenau bhana……..

Sampanata bhitra sadai
Timrai aabav khatkecha

Sampanata bhitra sadai
Timrai aabav khatkecha
Koi huna pida badna
Koi huna pida badna
Jaba yo maan
Jaba yo mann
Jana yo mann tarpincha
Sunai khaya ni k
Suwad huncha
Timi saath ma chayenau bhana
Bhautik sukha la k
Dina sakcha
Bhautik sukha la k
Dina sakcha
Mann ma khusi mildaina
Bhana
Sansarai Payera k
Garnu jaba timi
Chayenau bhana………

Sunniya lagcha jhilemile
Mahal timi bina

Sunniya lagcha jhilemile
Mahal timi bina
Hira jadi Bistara mah
Hira jadi Bistara mah
Ma nedauna
Ma nedauna
Ma nedana Sakdena
Mahal mai basara
K garnu timi saath
Ma chayenau bhana
Bhautik sukha la k
Dina sakcha
Bhautik sukha la k
Dina sakcha
Mann ma khusi mildaina
Bhana
Sansarai Payera k
Garnu jaba timi
Chayenau bhana…………