Swarthi Bani by Sara Poudel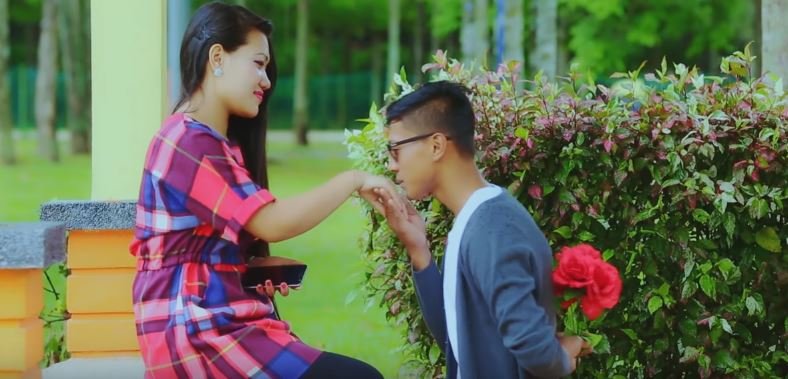 Swarthi Bani is a New Nepali Aadhunik Melodious Sentimental Pop Song by Sara Poudel. The music video features Padam, Gita and Puja. Swarthi Bani is a Nepali song by Sara Poudel which is directed by Sundar Laoti. Swarthi Bani music video was cinematographed by Phurba Dorje Moktan and music video was edited by Arjun Pokhrel.
The music of this song is composed by Manipal Rai and lyrics of this song was written by Tara Dipsali. The music video is featuring by versatile model Puja. Swarthi Bani is sentimental pop song. This song gives the information about that to be happy, we must not be too concerned with others. When you once listen this song, I am sure you will keep repeating it. Overall, Sara Poudel's Swarthi Bani is a nice and soothing song with great melody.
The music video is released officially online by SongsNepal via Youtube. Hope that you will enjoy this sentimental pop Song Swarthi Bani.

Here is the lyrics for the song:
Swarthi bani
Timile kina
Jhuta kasam khayau
Swarthi bani
Timile kina
Jhuta kasam khayau
Dhoka di ruwai malai
Vana k payau
Vana khai k payau
Swarthi bani
Timile kina
Jhuto kasam khayau…

Vanne gartheau
Sakdina ma bachna
Timi bina
Vanne gartheau
Sakdina ma bachna
Timi bina
Aja feri timile nai
Ghat gareau kina
Ghat gareau kina
Malai ghat gari
Timle antai
Maya layau
Dhoka di ruwai malai
Vana k payau
Vana khai k payau
Swarthi bani
Timile kina
Jhuta kasam khayau…

Jun tara jhai
Atal maya
Timilai dinchu vantheau
Jun tara jhai
Atal maya
Timilai dinchu vantheau
Sira mathi haat rakhi
Timro kasam vantheau
Timro kasam vantheau
Kasam todi timile
Kina antai maya layau
Dhoka di ruwai malai
Vana k payau
Vana khai k payau
Swarthi bani
Timile kina
Jhuta kasam khayau……