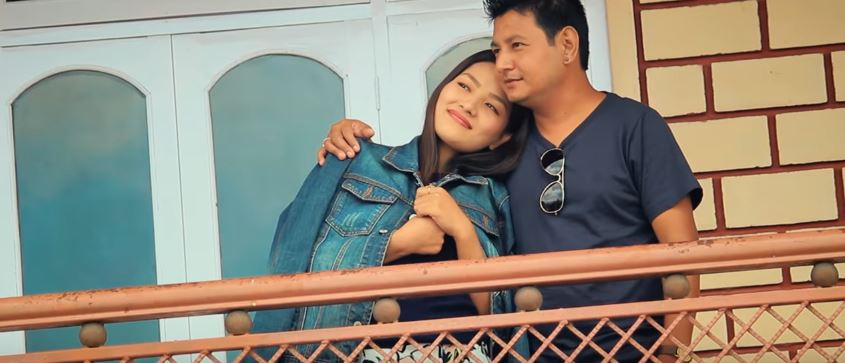 Tada Jane is a Superhit Aadhunik Melodious Nepali pop song by Sewak Dewan. The music video features by Ananda and Ashna. Tada Jane is a Nepali song by Sewak Dewan which is directed by Sandip Pradhan. Tada Jane music video was edited by Sandip Pradhan and music video was cinematographed by Sandip Pradhan himself.
The music video of this song is arranged by Sandip Pradhan and lyrics of this song was written by Sandeep Bhaktaraj. The music video is featuring by versatile hot model Ashna. Ashna is one of the hot and sexy model of music video industry. She has given her good performance as a model in this music video. Tada Jane music video was recorded at Chiyabari FM studio. In this song, Ananda was calling to his lover Ashna who has been gone away from his life. When you once listen this song, I am sure you will keep repeating it. Overall, Sewak Dewan's Tada Jane is a nice and soothing song with great melody.
The music video is released officially online by SongsNepal via Youtube. Hope that you will enjoy this Melodious Song Tada Jane.
Here is the lyrics for the song:
Tada Jane priya auna
Malae chadi jane
Priya auna
Tada Jane priya auna
Malae chadi jane
Priya auna…

Birsana chaena timra
Baat haru
Ajai yadai chha
Timra yad haru
Birsana chaena timra
Baat haru
Ajai yadai chha
Timra yaad haru
Timinai bhana din
Kasari bitau ma
Timinai bhana raat
kasari katum ma
Tada Jane priya auna…

Dhoka diyau Chadi gayau
Sacho maya Jhuto bhanae
Dhoka diyau Chadi gayau
Sacho maya Jhuto bhanae
Thaha chaena kasalai
Bhanum ma
Timi bina koe
Chaena jiwan ma
Tada Jane priya auna
Malae chadi jane
Priya auna
Tada Jane priya auna
Malae chadi jane
Priya auna……