Thorai Thiyo by Shiva Pariyar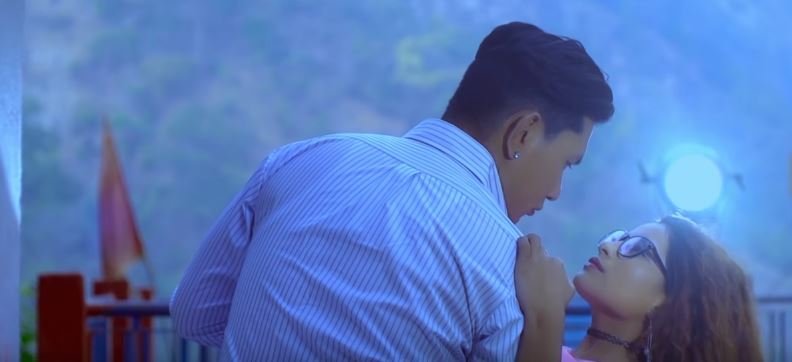 Thorai Thiyo is a new Nepali aadhunik pop song by Shiva Pariyar. The music video features Ishwor and Anshu. Thorai Thiyo is a Nepali song by Shiva Pariyar which was directed by Gaurav Giri. Thorai Thiyo music video was edited by Suresh Raut and music video was cinematographed by Shovakar Pokheral.
The music of this song was composed by Babool Giri and lyrics of this song was written by Narayan Gautam. Shiva Pariyar is one of the most popular singer among the Nepali Music Lovers. Blessed with a golden voice, he has touched the hearts of millions with his songs. Thorai Thiyo is Sentimental pop song in which we can see that person can do everything for money. Here, Anshu has selling her body for money by leaving her true lover Ishwor. But, Ishwor loves Anshu from his heart and praying for god to return his lover from that hell. Thorai Thiyo music video was presented by Rhythm Star Music Pvt. Ltd. When you once listen this song, I am sure you will keep repeating it.
The music video is released officially online by SongsNepal via Youtube. Hope that you will enjoy this Melodious pop sentimental Song Thorai Thiyo.

Here is the lyrics for the song:
Hey daeba maghu
Ki na maghu
Dina sakna bhaye
Sano auta chijha magchu
Thorai thiyo hey bhagwan
Magnu maela dina sakna bhaye
Thorai thiyo hey bhagwan
Magnu maela dina sakna bhaye
Timile nai deka madhya kai
Phirta lina sakne bhaye
Timile nai deka madhya kai
Phirta lina sakne bhaye
Thorai thiyo hey bhagwan
Magnu maela dina sakna bhaye…

Yetai dherai dhukha jhelna
Sakne Kae upaye po chha ki
Yetai dherai dhukha jhelna
Sakne Kae upaye po chha ki
Bhokai naghai bachana sakna yesto
Kunai chamatkarai po chha ki
Mandir bata bhaera niski
Timila bolna sakne bhaye
Thorai thiyo hey bhagwan
Bhannu maela sunna sakne bhaye…

Sunako theya jindagi kaela
Gham chaya kaela pani
Sunako theya jindagi kaela
Gham chaya kaela pani
Rujhera nai jiwan katna
Pari sako launa bani
kripa gari timro
Nindra khulna sakne bhaye
Dherai dhaye hey bhagwan
Matha mandir ma
Dhekhana sakne bahye

Thorai thiyo hey bhagwan
Magnu maela dina sakna bhaye
Timile nai deka madhya kai
Phirta lina sakne bhaye
Timile nai deka madhya kai
Phirta lina sakne bhaye
Thorai thiyo hey bhagwan
Magnu maela dina sakna bhaye
Thorai thiyo hey bhagwan
Magnu maela dina sakna bhaye………