Timilai Maya Garna by Raj Sigdel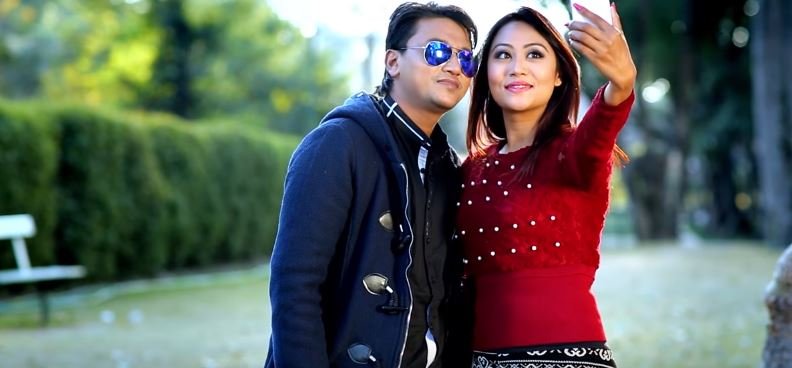 Timilai Maya Garna is a New Romantic Aadhunik Nepali Pop song by Raj Sigdel. The music video features by Ashishma Nakarmi and Subash Shrestha. Timilai Maya Garna is a Nepali song by Raj Sigdel which is directed by Dipendra Lama. Timilai Maya Garna music video was edited by Shahil Khan.
The music of this song is composed by Yogesh Kaji and lyrics was written by Prakat Kumar Shishir. The music video is featuring by versatile actress Ashishma Nakarmi with a new looks. She has appeared in numerous music videos, television commercials, print ads. Timilai Maya Garna is a love story song. Timilai Maya Garna songs provides the lesson that distance doesn't matter in a good relationship, we don't have to see someone every day to be in good relationship.
The music video is released officially online by SongsNepal via Youtube. Hope that you will enjoy this Melodious pop Song Timilai Maya Garna.

Here is the lyrics for the song:
Timilai Maya Garna
Timro najik
Hunu pardaina
Timro dhukdhuki
Thaha pauna
Timi lai chunu
Pardai na
Tadha bhayera
K bho ta
Timi ma dhekhi
Ajhai chha
Yo mann ma
Timro niyano maya…

Khojhi rayeko
Chhu timilai
Kae katai chaenau
Chimlida aakha
Yae dhekhachu
Biujhida kina
Sagai hunau
hooo
Khojhi rayeko
Chhu timilai
Kae katai chaenau
Chimlida aakha
Yae dhekhachu
Biujhida kina
Sagai hunau
Timilai Maya Garna
Timro najik
Hunu pardaina
Timro dhukdhuki
Thaha pauna
Timi lai chunu
Pardai na…

Bahana dau
Mann bhulauna
Dhadkan roki
Bachana sakhu
Bhula bhanchau
Timi la malae
Birsara timilai
Kasori bachau
hoo
Bahana dau
Mann bhulauna
Dhadkan roki
Bachana sakhu
Bhula bhanchau
Timi la malae
Birsara timilai
Kasori bachau
Timilai Maya Garna
Timro najik
Hunu pardaina
Timro dhukdhuki
Thaha pauna
Timi lai chunu
Pardai na
Tadha bhayera
K bho ta
Timi ma dhekhi
Ajhai chha
Yo mann ma
Timro niyano maya……