Timrai Dil Ma by Aakanshya Bashyal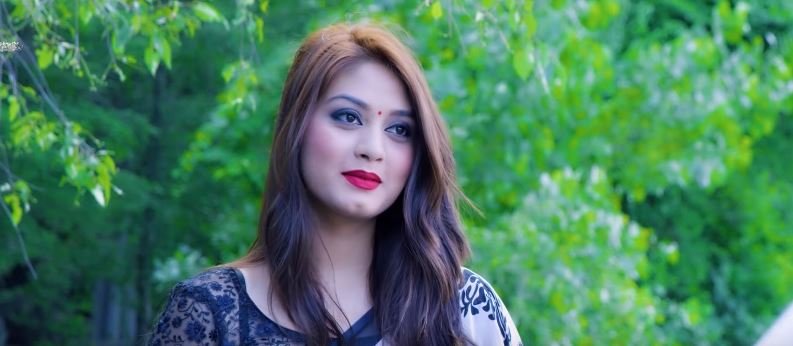 Timrai Dil Ma is a Nepali aadhunik song from album Saakar-2. The music video features Aakesha Bista and Jangbu Sherpa. Timrai Dil Ma is a Nepali aadhunik song by Aakanshya Bashyal which was directed by Sauram Raj Tuladhar and Shambhu Moktan. The music video was edited by Nishan Ghimire.
The music for this song is composed by Sajan Shah and lyrics was written by Lekhu Sahayatri. The music video features versatile actress Aakesha Bista with a new looks. Aakesha Bista has established herself as a successful model who has played the lead role in this video. Here, The most beautiful face of Aakesha Bista shows that one smile can started her friendship with Jangbu Sherpa and he has change her whole life with his love. Timrai Dil Ma music video was post production by Moktan Digital and arranged by Suman Kc. When you once listen this song, I am sure you will keep repeating it.
The music video is officially released by Budha Subba Digital Pvt Ltd via YouTube. Hope you guys will enjoy this beautiful song Timrai Dil Ma.

Here is the lyrics for Timrai Dil Ma:
Timrai Dil Ma Basae sarchu
Bhanna dherai chan
Batai bhari phul charchu
Bhanne dherai chhan
Tara timiali bhulna kaela
Mandaina mero mann
ho ho ho lalala……..

Sable bhanchan jadhu chare
Mero muharai ma
Kaseri yo deu ma
Joban udharai ma

Sable bhanchan jadhu chare
Mero muharai ma
Kaseri yo deu ma
Joban udharai ma
Timrai lagi jiuchu marchu
Bhanne dherai chan
Timrai sarana ma parchu
Bhanne dherai chhan
Tara timiali bhulna kaela
Mandaina mero mann
ho ho ho lalala……..

Jiskaune matra janau
Maya garne kaela
Chucho manche timro kura
Mathi parchau jaela

Jiskaune matra janau
Maya garne kaela
Chucho manche timro kura
Mathi parchau jaela
Timi bina oeli jharchhu
Bhanne dherai chhan
Samjhi samjhi dhanga parchu
Bhanne dherai chhan
Tara timiali bhulna kaela
Mandaina mero mann
ho ho ho lalala