Timrai Haatko Sindur by Melina Rai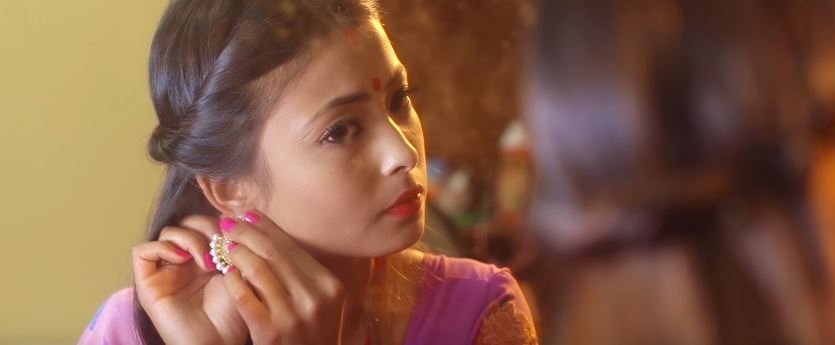 Timrai Haatko Sindur is a Nepali sentimental song by Melina Rai. The music video features Subash Sen, Kristina Thapa and Khagendra Giri. Timrai Haatko Sindur is a Nepali song which is directed by Janak Singh. The music video was edited by Tekendra Shah and was cinematographed by Utsav Dahal.
The music for this song was composed by Rajkumar Bagar and lyrics was written by Sharoz Chemjong. The music video features versatile model Kristina Thapa. Kristina Thapa is a hot and sexy model who has given her best performance for making this music video good. The melodious voice for this song was added by Melina Rai. Here we can see the unsuccessful love between Kristina Thapa and Subash Sen. This song want to visualize that some people come into your life for a lifetime and some of them came to take part of it as a scene. When you once listen this song, I am sure you will keep repeating it.
The music video is released officially online by Music Nepal via Youtube. Hope that you will enjoy this sentimental song Timrai Haatko Sindur.
Here is the lyrics for Timrai Haatko Sindur:
Timrai Haatko Sindur
Laune sapana theyo

Timrai Haatko Sindur
Laune sapana theyo
Tara adhuro adhuro
Adhuro bhayo
Tara adhuro adhuro
Adhuro bhayo
Timro sadai maya paune
Chahan theyo
Tara apuro apuro
Apuro bhayo
Tara apuro apuro
Apuro bhayo……

Sundar sapana bokera ma
Timrai sahar ayeki theya

Sundar sapana bokera ma
Timrai sahar ayeki theya
Besahara theya ma ta
Besahara theya ma ta
Timrai satha paye ki theya
Timrai satha paye ki theya
Kopila mai jhari gayo
Fulna mann theyo
Tara adhuro adhuro
Adhuro bhayo
Tara adhuro adhuro
Adhuro bhayo
Timro sadai maya paune
Chahan theyo
Tara apuro apuro
Apuro bhayo
Tara apuro apuro
Apuro bhayo……

Chodi janu theyo bhane
Haat thamna khojhau kina

Chodi janu theyo bhane
Haat thamna khojhau kina
Maya swarthi theyo bhane
Maya swarthi theyo bhane
Malae timile rojhau kina
Malae timile rojhau kina
Aati samjhi runa paryo
Hasna mann theyo
Tara adhuro adhuro
Adhuro bhayo
Tara adhuro adhuro
Adhuro bhayo
Timro sadai maya paune
Chahan theyo
Tara apuro apuro
Apuro bhayo
Tara apuro apuro
Apuro bhayo……………