Timro aagamanle by Ram Krishna Dhakal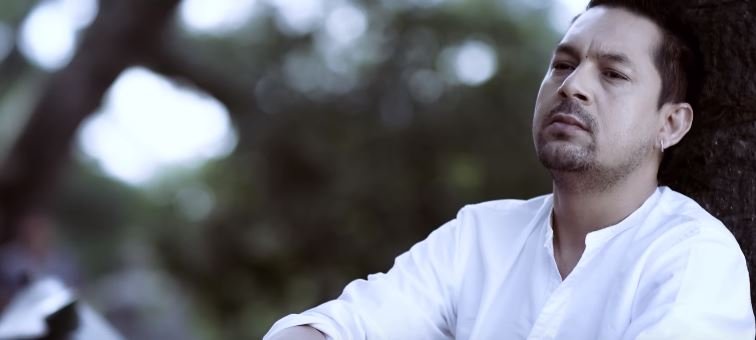 Timro aagamanle is a Nepali modern love song from album "Aadhar". Timro aagamanle is a Nepali song by Ram Krishna Dhakal which is directed by Ravi Lamichhane. The music video was cinematographed by Jun Tamaoki and edited by Kiran Tuladhar.
The lyrics for the song was written by Ravi Lamichhane and music for the song was also composed by Nabin K Bhattarai. This music video based on romantic love story. Singer Ram Krishna Dhakal have given his melodic voice. Ram Krishna Dhakal is the well known singer with great voice and sings mostly emotional songs. When you once listen this song, I am sure you will keep tuning it.
The music video is released officially online by Music Nepal via Youtube. Hope that you will enjoy this melodious modern song Timro aagamanle.
Here is the lyrics for Timro aagamanle:
Timro aagamanle pheri
Naya umanga liyayo
Sundar bihani jastai
Jhulke gham jiban
Ma liyayo
Aasha ko kiran
Jhulkiyo yo mann ma
Basanta aye jhai
Ujhad mann ma
Timro aagamanle pheri
Khusiyali sangai nai liyayo…….

Timro maya le pheri
Mutu bhari mata chadayo
Mann bhari maya boki
yo dhuddhuki chalne garayo
Mutu ma rakhau ta
Chopin chha ki
Aakha ma rakhau ta
Pokhin chha ki
Timro aagamanle pheri
Naya bhahar liyayo…….

Timro prapti le pheri
Bachane rahar badayo
Adhi huri chalda pani
Jiban bhiyok mann le garayo
Tarsinchu maya kata bhagla ki
Kasai ko aakha yesma
Lagla ki
Timro satha le pheri
Naya josha liyayo
Timro satha le pheri
Naya josha liyayo
Timro aagamanle pheri
K theya k garayo………..