Timro Nai Hune Aashma by Anju Panta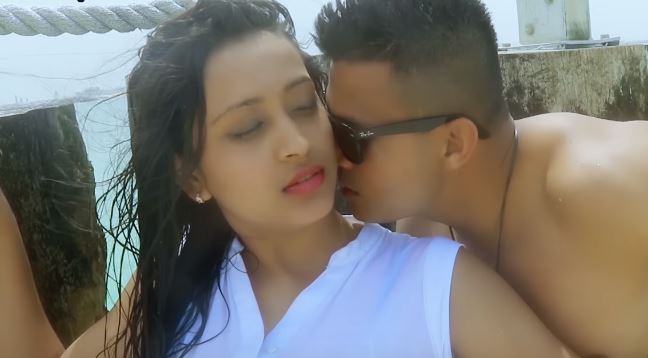 Timro Nai Hune Aashma is a new romantic Nepali song by Anju Panta. Timro Nai Hune Aashma is a Nepali song which is directed by Prakash Bhatta. The music video was cinematographed by Prakash Bhatta and was edited by Bishnu Sharma.
The lyrics and music for this song is composed by Shreekrishna Bam Malla. Timro Nai Hune Aashma is a melodious romantic song by Anju Panta. She is one of the famous, talented and versatile singer of Nepal. Panta has given her voice in more than hundreds of hit songs. Her melodious voice adds flavor in every song she sings. Here we can see the romance between the artists. The hard work of director, cameraman and artists has given life to this music video. The music video post production by Sai Vision pvt. Ltd. I am sure you will like repeating this song when you once listen to it.
This music video is officially released online by Music Nepal via YouTube. Hope you guys will enjoy this melodious romantic song Timro Nai Hune Aashma.
Here is the lyrics for Timro Nai Hune Aashma:
Timro Nai Hune Aashma
Timro nai lagi siudo
Khali rakha

Timro Nai Hune Aashma
Timro nai lagi siudo
Khali rakha
Timile siudo arkai ko
Bharau
Timile siudo arkai ko
Bharau
Papa garau ya puna garyau
Garnai na hune galti garau
Garnai na hune galti garau
Timro nai hune asha ma…..

Timro mann dhukhana
Sabdai bolina

Timro mann dhukhana
Sabdai bolina
Ishwor samjhitheya
Maela timilai
Afno jiyan bhanda
Timro pir dherai
Ulto sochina timilai kaela
Ulto sochina timilai kaela
Timro Nai Hune Aashma
Timro nai lagi siudo
Khali rakha

Timro Nai Hune Aashma
Timro nai lagi siudo
Khali rakha
Timile siudo arkai ko
Bharau
Timile siudo arkai ko
Bharau
Papa garau ya punyya garyau
Garnai na hune galti garau
Garnai na hune galti garau
Timro nai hune asha ma…..

Ekai chin chodada
Akha rasau theya

Ekai chin chodada
Akha rasau theya
Jiban bhari lai
Rune garayau
Jiban bhari lai
Rune garayau
Na ta ma timro nai
Bhanna nai paye
Na ta kasai ko
Hune garayau
Na ta kasai ko
Hune garayau
Timro Nai Hune Aashma
Timro nai lagi siudo
Khali rakha

Timro Nai Hune Aashma
Timro nai lagi siudo
Khali rakha
Timile siudo arkai ko
Bharau
Timile siudo arkai ko
Bharau
Papa garau ya punyya garyau
Garnai na hune galti garau
Garnai na hune galti garau
Timro nai hune asha ma…………………