Timro Sathma by Pramod Kharel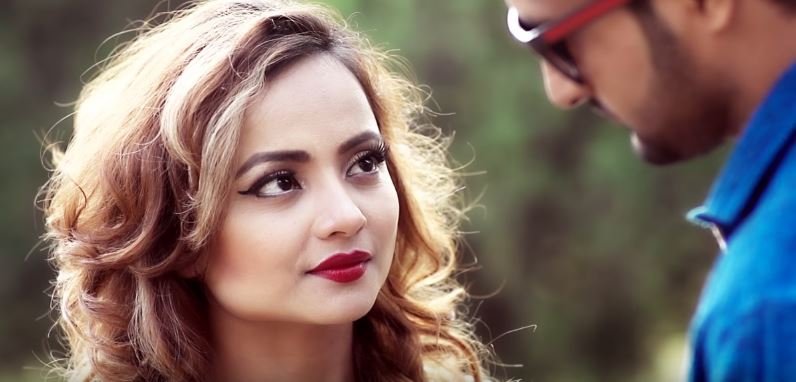 Timro Sathma is a New Aadhunik Nepali Melodious pop song by Pramod Kharel. The music video features by Namrata Sapkota & Deepak Kafle. Timro Sathma is a Nepali song by Pramod Kharel which is directed by Kumar KC. Timro Sathma music video was Cinematographed by Ajay Regmi and music video was edited by Anup Siwakoti.
The music of this song was composed by Santosh KC and Lyrics of this song is written by Suraj Gaire Bibas. Pramod Kharel is a one of the established and much-loved singers in Nepali music industry. Pramod Kharel is a one of the versatile playback singer. His many recorded song are popular. Timro Sathma is a aadhunik Nepali pop song where we can see the Nepali cine versatile actress Namrata Sapkota has played as a lead role. When you once listen this song, I am sure you will keep repeating it.
The music video is released officially online by Music Nepal via Youtube. Hope that you will enjoy this Melodious Aadhunik  pop Song Timro Sathma.

Here is the lyrics for the song:
Timro Sath pauda
Khusi huna yo mann
Tadha bhayau
Bhane dhukhacha
hoo
Timro Sath pauda
Khusi huna yo mann
Tadha bhayau
Bhane dhukhacha
Sansara ka khusi
Chaedaina malae
Sansara ka khusi
Chaedaina malae
Timro satha
Bhaye pugacha
Maya garna yo mutu
La antai nata
Jodhau bhane
Kasto hola socha priya
Jun la akasha
Chodo bhane…

Jiuda pani sagai jiuna
Marda pani sagai marna
hoo
Jiuda pani sagai jiuna
Marda pani sagai marna
Aru koe chaena priya
Maela jati maya garna
Maela jati maya garna
Maya ko pujari hu ma
Timi mero deuta hau
Mero mann ko manche bhannu
Timi matra auta hau…

Aru chaha chaena timi
Sagai huna paye pugacha
hooo
Aru chaha chaena timi
Sagai huna paye pugacha
Timro mann dhukhada kheri
Sagai runa paye pugacha
Sagai runa paye pugacha
Timro satha pauda
Khusi Huna yo mann
Tadha bhayau bhane dukhacha
hoo
Timro Satha pauda
Khusi huna yo mann
Tadha bhayau
Bhane dhukhacha
Sansara ka khusi
Chaedaina malae
Sansara ka khusi
Chaedaina malae
Timro satha
Bhaye pugacha
Maya garna yo mutu
La antai nata
Jodhau bhane
Kasto hola socha priya
Jun la akasha
Chodo bhane……