Timro Yaad Le By Anju Panta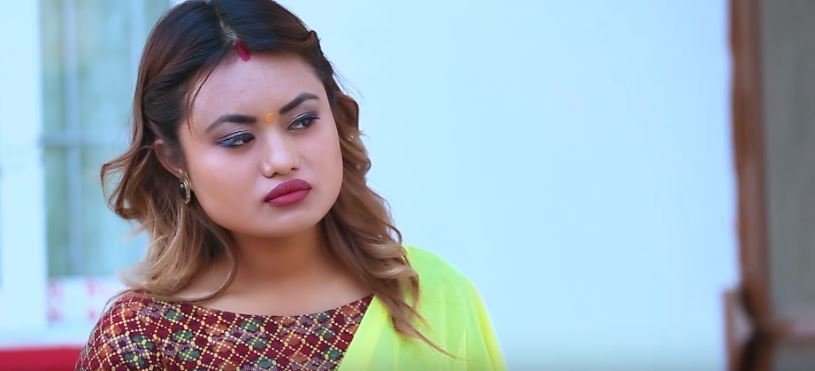 Timro Yaad Le is an aadhunik Nepali song by Anju Panta. The music video features Sher Bahadur D.C and Archana Kaucha Magar. Timro Yaad Le is a Nepali song which is directed by Shivan Pokharel. The music video was Cinematographed by Ajaya Regmi and was edited by Sudhan Basnet.
The music for this song is composed by Binod Pachhai and lyrics was written by Rabindra Ashish Sailee. Timro Yaad Le is a melodious heart touching song by Anju Panta. She is one of the famous, talented and versatile singer of Nepal. Panta has given her voice in more than hundreds of hit songs. Her melodious voice adds flavor in every song she sings. This song shows common problem of Nepalese society people who goes aboard by leaving their family. The music video post production by Action Media. I am sure you will like repeating this song when you once listen to it.
This music video is officially released online by Action Media via YouTube. Hope you guys will enjoy this melodious aadhunik song Timro Yaad Le.
Here is the lyrics for Timro Yaad Le:
Timro Yaad Le sataucha
Timro maya la bolucha
Timro Yaad Le sataucha
Timro maya la bolucha
Ma chu tada dhari tada
Timi sapanima aauchu
Timi sapanima aauchu
Ghari ghari bolauchu
Ma chu tada dherai tada
Timro Yaad Le sataucha
Timro maya la bolucha…

Pahela ko pratibima
Ma timi
Samaya ko aabhilamba
Ma timi
Pahela ko pratibima
Ma timi
Samaya ko aabhilamba
Ma timi
Mero pareli ma timi
Mero pareli ma timi
Timro Yaad Le sataucha
Timro maya la bolucha….

Cheya ko phale ma timi
Khana ko thali ma timi
Cheya ko phale ma timi
Khana ko thali ma timi
Mero haar saas ma timi
Mero haar baas ma timi
Timro Yaad Le sataucha
Timro maya la bolucha
Ma chu tada dherai tada
Timi sapanima aauchu
Timi sapanima aauchu
Ghari ghari bolauchu
Ma chu tada dherai tada………