Xhina Bhari by Maihesh Thapa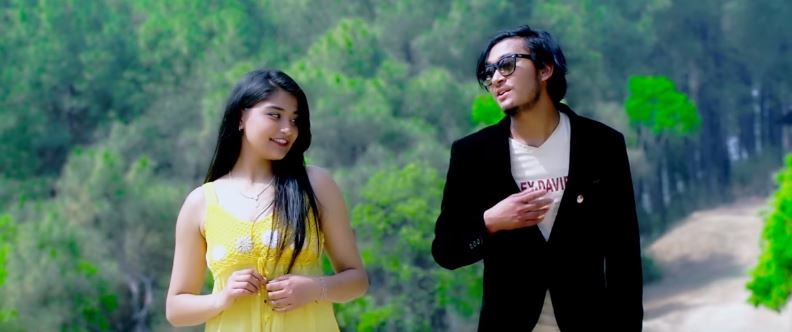 Xhina Bhari is a new aadhunik melodious Nepali song by Maihesh Thapa. The music video features Prem, Arun, Meghraj, Aakanchya, Rojina, Purnima and Jesika. Xhina Bhari is directed by Rajiv Kapali. The music video was edited by Bijaya Jirel and was cinematographed by Rameshwor Jirel.
The music video for this song was arranged by Purushtam Neupane and lyrics was written by S.D. Yogi. Xhina Bhari is a aadhunik pop song which shows that biggest mistake of boys because they think and care too much about the person they love. Xhina Bhari music video was Choreographed by Raj Thapa and music video was Presented by Prem Bahadur Gurung. The music video was post production by Cineside Digital Bagbazar. When you once listen this song, I am sure you will keep repeating it.
The music video is released officially online by HighlightsNepal via Youtube. Hope that you will enjoy this melodious song Xhina Bhari.
Here is the lyrics for Xhina Bhari:
China bhari hasayera
Juni bahri ruwana
Tadha bhae jana pheri
Kina ayau mero khusi
Dui din ko pauna
Kina ayau mero khusi
Dui din ko pauna
Kina ayau mero khusi
Dui din ko pauna
Kina ayau mero khusi
Dui din ko pauna …..

Timi ayau timi sangai
Rahar pani ayo
Jindagi le ranga pheryo
Aasha pani palayo
Jasto theya thikai theya
Dhukha sukha bachadai theya
Biujhi da tuti jane jhuto sapan
Dhekahe kina ayau mero khusi
Dui din ko pauna
Kina ayau mero khusi
Dui din ko pauna…..

Batasha ko jhoka jasto
Timi ayau ani gayau
Maela otha lagne ghar ko
Chana pani udhayau
Jhel dai theya gham pani
Afnai bato hindai theya
Chutanu rayecha dobato mai
Aadhi sapana sunauna
Kina aya mero khusi
Dui din ko pauana
Kina ayau mero khusi
Dui din ko pauna
Kina ayau mero khusi
Dui din ko pauna
Kina ayau mero khusi
Dui din ko pauna……………