Yaha Ghau Haru by Binod Rai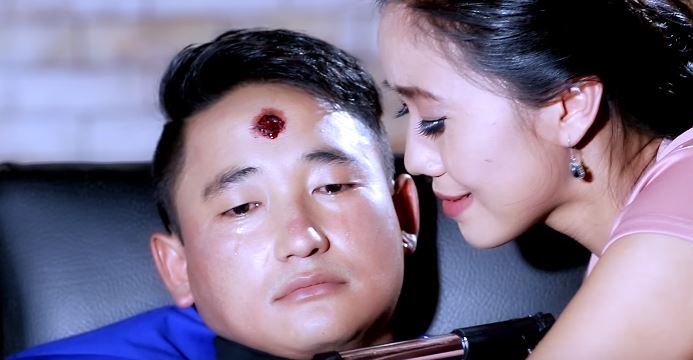 Yaha Ghau Haru is a Nepali love song by talented singer Binod Rai. This video of the song features talented model Reejon Thebe, Ayusha Limbukhim and Mausami. The video is directed by Jasu Yakkha and edited by Amrit Chapagain. This music video is beautifully filmed by cameraman Mukesh Humagain Team.
The song Yaha Ghau Haru lyrics and music was composed by Nischal Prem Rai. The innovative, energetic and multidimensional young singer Binod Rai has contributed his amazing voice in lots of Nepali Songs. The main theme of this music video is that man will die, but love never die. The video features artists Reejon Thebe, Ayusha Limbukhim and Mausami. The well known arranger Shila Bahadur Moktan has arranged this music video. Give a listen to this song right away, I am sure you will keep repeating it.
The music video is released officially online by Budha Subba Digital Pvt Ltd via YouTube. Hope that you will enjoy this melodious aadhunik song Yaha Ghau Haru.
Here is the lyrics for Yaha Ghau Haru:
Yaha ghau haru
Baljhae diyau
Adha kalcho banaediyau

Yaha ghau haru
Baljhae diyau
Adha kalcho banaediyau
Thamna na sakne
Dhuk dhuki chalyo
Rokna na sakne
Dhadkan badyo
Thamna na sakne
Dhuk dhuki chalyo
Rokna na sakne
Dhadkan badyo
Dhadkan badyo…………

Kaha kaha harae gayau
Timi afai parae bhayau

Kaha kaha harae gayau
Timi afai parae bhayau
Yo sansar nai
Bhuli dine
Maya aafai dine garyau
Khusi afai banayau
Sabai pheri afai lutyau
Khusi aafai banayau
Sabai pheri afai lutyau
Yaha ghau haru
Baljhae diyau……….

Badnam bho barbad bho
Afai kura pheri katyau

Badnam bho barbad bho
Afai kura pheri katyau
Thahai na di chati bitra
Mutu afai pheri satyau
Kehi garchu bhandai timi
Aja afai pheri thakyau
Kehi garchu bhandai timi
Aja afai pheri thakyau
Yaha ghau haru
Baljhae diyau
Adha kalcho banaediyau

Yaha ghau haru
Baljhae diyau
Adha kalcho banaediyau
Thamna na sakne
Dhuk dhuki chalyo
Rokna na sakne
Dhadkan badyo
Thamna na sakne
Dhuk dhuki chalyo
Rokna na sakne
Dhadkan badyo
Dhadkan badyo…………