Yeuta Manchhe Ko Mayale By Narayan Gopal (Audio)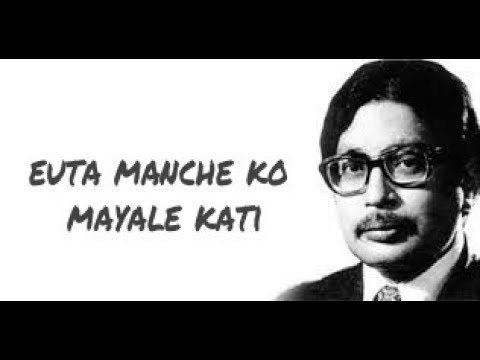 Yeuta Manchhe Ko Mayale is a Evergreen and sentimental song by Narayan Gopal. This song is full of emotions, As people says this song is dedicated to his own girlfriend non other than queen Aishrwaya. The song is taken from album "Narayan Gopal Collectors Album Vol-1" .
The music and lyrics for this song was written by Narayan Gopal. Narayan Gopal, who has enchanted millions of listeners by his immortal melodies. He was also known as "Tragedy King".His voice range allowed him to sing songs of every genre of Nepalese music. Often, his songs were orchestrated with the sitar, harmonium and flute. He was music director of the 1950s, 1960s, and 1970s. He belongs to the first generation of Nepali singers who became professional singers. His songs have also been used in several movies and dramas across the country. When you once listen this song, I am sure you will keep singing it.
The music video is released officially online by pkmalla via Youtube. Hope that you will enjoy this melodious evergreen Lok pop song.
Here is the lyrics for the song:
Eauta manchhe ko maya le kaati
Pharak parda chha zindagi maa
Eauta manchhe ko maya le kaati

Pharak parda chha zindagi maa
Eauta saathi ko saatha le kati
Pharak parda chha jiunu maa

Eauta manchhe ko maya le kaati
Pharak parda chha zindagi maa

Shishir yaama ko jaado ma pani
Shishir yaama ko jaado ma pan
Phul da chha phul muskan ko
Andhyaro aaunsi ko raata ma pani
Balda chha diyo bishwas ko
Nayana bhari ko aansu ma pani
Nayana bhari ko aansu ma pani
Baseko hunchha tasbira tyo

Hridaya bhariko chota ma pani
Luke ko hunchha mayalu tyo
Eauta manchhe ko maya le kaati
Pharak parda chha zindagi maa

Bichoda hunda ko, dukha ma pan
Bichoda hunda ko, dukha ma pani
Bharosa hunchha milana ko
Jhagda hunda ko bela ma pani
Patyara hunchha sahara ko
Mayalu bina ko hundo ho kati
Mayalu bina ko hundo ho kati
Urath laga do sandara yo

Pirati bina ko sodoho kati
Nirasekalo samjhana aayo
Eauta manchhe ko maya le kaati
Pharak parda chha zindagi maa