Nepali Short Comedy Film – U Aayo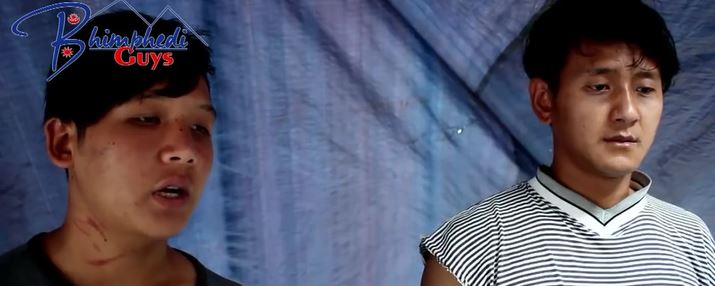 Watch Nepali comedy short film "Uh Aayo" presented by Bhimphedi Guys. The film is directed by Bhimphedi Guys. The film shows us the story of two friends and other people irritated by earthquake.
The film begins by showing the day when Nepal was struck by an earthquake where two friends were sitting in room using mobile phone. When both were busy doing their work, earthquake hits Nepal and both rush down for their safety. When both go upstairs at their room, earthquake again strikes Nepal.  The same night, both of them have conversation related to earthquake.
The same thing goes for a couple of weeks, no matter what they do, they always get disturbed by earthquake. After someday when the attack was controlled and everything was normal, earthquake again hits Nepal. Later, the two guys head to help the victims of earthquake, and tries to help the victim, but there too they get attacked by earthquake. The same night, three of them go into a lodge for shelter, but the victim makes them fool and steal their money.
After 17 days, when they go for free check-up camp, being mentally distracted from earthquake and that thief, both forget their name, and in the same time earthquake again strikes and both starts laughing.