Nepali Short Film – Facebook Vs. Notebook II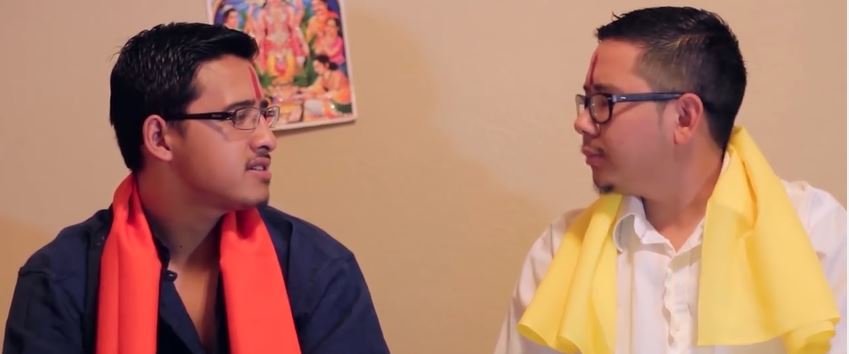 Watch Nepali short film "Facebook Vs. Notebook II", the sequel of "Facebook Vs. Notebook" presented by MaZZako Entertainment. The film is directed by Subodh Thapa Magar and Subodh Moktan. The editor of this film is Subodh Moktan. Likewise, the production managers of this film are Hari Acharya, Prashan Shakya and Samrat KC. The film stars Subodh Thapa Magar as Gyan Bahadur, Nurja Shrestha as Preeti, Hari Acharya as James Dai, Madhu Shudhan Tamrakar as Maddy, Nabina Shahi as Ex-Girlfriend, Biraj Shrestha as Fake Dai, Tiffany Betancourt as Ceesy, and Subodh Moktan as Pachake. The film portrays the story of Gyan Bahadur who lost Preeti during his first semester, and this time both Pachake and Gyan makes plan to snatch Preety from Maddy.
The film like its 1st sequel, begins with Gyan Bahadur giving his introduction and telling us all the things that took place with him during the first semester. In the meantime, James Dai sees Pachake and starts chasing him to take revenge for what he did to him last time. Preeti sees Gyan while passing through the way, and both have conversation for a while. Later, Gyan sees James fighting with Pachake and he separates it. And both Gyan and Pachake chill out at night.
 Next morning Gyan and Pachake have their conversation about Preeti. The same night, the same thing happens as Pachake had said about him after drinking and says Pachake to comparison between Maddy and him, and Pachake makes up plan to do a break up between Maddy and Preety. Slowly and steadily, everything goes according to their plan. At last, Maddy gives break up to Preety, and starts behaving like she used to do before. One day, Gyan meets up Preeti and confesses that he was the main reason for the break up between her and Maddy and in the same time, James calls Preeti and both of them have a conversation for a while. Later, Preeti calls Gyan and she too confesses her feelings towards him.
The film ends by showing Gyan and Pachake seeing their facebook newsfeed and saying the advantages and disadvantages of facebook.