Nepali Short Film – That Soldier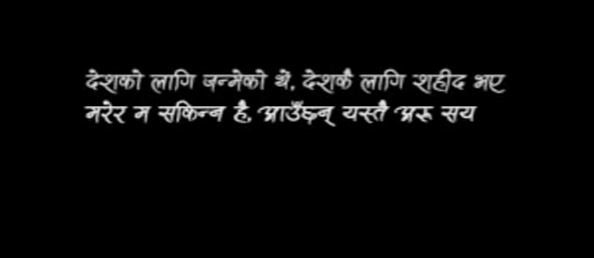 Watch Nepali short film "That Soldier" presented by Nepalese Army. The film is directed by Som Nath Khanal.  The film is edited by Sagar Prasain. The executive producers are Sandhya Khanal and Bhisma Khanal. The film stars Sulakchhyan Bharati, Umesh Tamang, Srijana Adhikari, Kamal Mani Nepal, Budhhi Tamang, Bijay Baral, Naazir Hussain, Suraj Yadav, Sunil Limbu, Sandesh Upadhayaya, Bhisma Khanal.  The film is made to pay tribute to Late Cpl Dinesh Shrestha who sacrificed his life to save a child who had fell into the well.
The film begins by showing Budhhi calling armies and other people rushing to look at the child who had fallen into the well. A young man goes into the well to save that child. After sometime, the armies arrive and they take out both child and that young man, but unluckily both of them had already died. The young who jumped into the well proved out to be an army. One of the army asks how that young man came there and Buddhi spoke out all the incidents that happened before the armies arrived.
The movie, later, shows us the scene of base camp where two armies where one was Dinesh, having their personal conversation. After sometime, Dinesh catches a bus for home and leaves for home. In his home, he talks with his brother, father and wife. Next morning, he leaves for base camp.
The film ends by showing his colleagues listening to the song that was dedicated to them by Dinesh and getting an order from the superior.