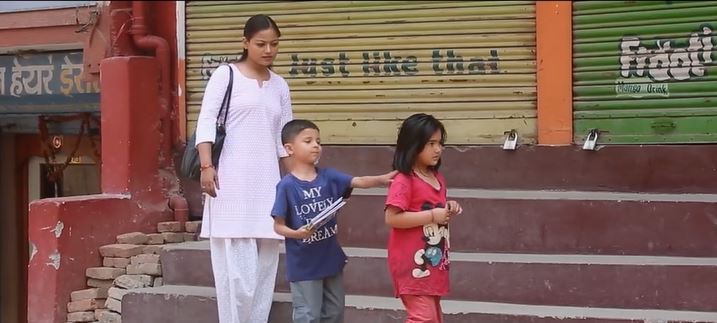 Watch a Nepali short film "Coin" presented by CG Entertainment and made with the idea of Mr. Basanta K. Chaudhary which was published on Mangsir 6, 2073. This film is directed by Sisan Baniya, and is written by Brindha Kathayat. The executive producer and producer are Brindha Kathayat, and Megha Chaudhary Shakya respectively. The work of editing is done by Ajay Thapa Magar.
 In this short film, Reecha Sharma has been seen as a mother, Anshuman Shahi as Reecha's son (or Anshu), Sanvi Baniya as a little girl, and Saroj Shrestha as a vegetable seller. This is a short story of a small boy who tries to help a girl of his age.
The film begins by showing Anshu making paper crafts, and Reecha doing her households. Later, Reecha makes Anshu ready for his school and gets into a taxi to drop Anshu to his school. On the way to school, Anshu remembers that he hadn't done one of his school assignments and Reecha goes into a stationery shop to complete his assignments. While Reeecha is busy at shop, Anshu notices a small girl collecting paper just to make her notecopy, but gets scolded by the shopkeeper.
Next morning, remembering that little girl, Anshu goes to kitchen and collects the coins left by the vegetable seller in order to save them. He does the same thing for a couple of weeks and finally gifts a 2 or 3 copies and pencils to that little girl.
Like I said that every short film of CG Entertainment conveys an important message among the public, this film also conveys an important message of helping a needy people and realizing that it makes them happy a lot. Not only this message, but other important message can also be taken from this film. A coin of Re.1 or let's say of Rs.2 do not get much importance in our day-to-day life, but if we make a habit of saving them, one day, it can be not a large amount, but at least a minimum amount that can be enough to gidt something for a needy people.
"Try this once, it will give more happiness to you than them".