Nepali Short Movie – My Break Up Story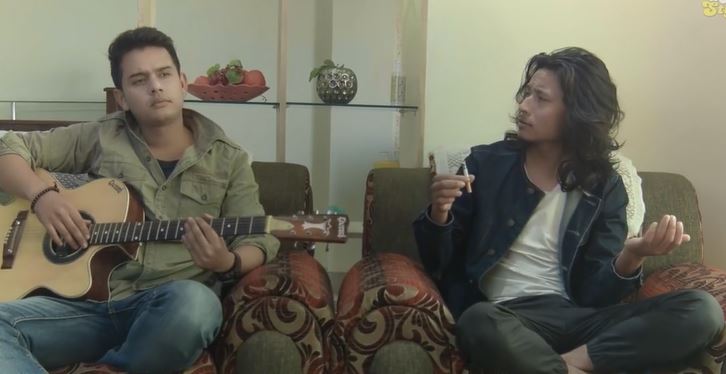 Watch Nepali short comedy movie "My Break Up Story" presented by Ur Style Entertainment. The casts of the short movie "My Break Up Story" include Amrit Dhungana, Barsha Raut, and Diljung Gurung. The short movie "My Break Up Story" is filmed as well as directed by Rupesh Thapa, and written by Amrit Gurung. The music in the movie is Swachit Shakya, and the work of editing/coloring and SFX has been done by Rupesh Khadka. The production managing is done by Pujan Satyal and Bishal Sapkota.
The movie starts with a boy singing a sad song and playing guitar (played by Amrit Dhungana) and having a conversation with his friend (played by Diljung Gurung). The friend of Amrit asks him to play a cheering song rather than the sad song and then he starts telling what happened to him last night.
Amrit had been thinking of giving break up to his girlfriend (played by Barsha Raut), and had invited her to his home for dinner. As Barsha arrives his home, she starts taking selfies. Later, Amrit comes near her and starts telling if they can end up their relationship. Barsha reacts normal and starts saying that she was thinking to end up relation before than he had thought of it, but didn't say as she thought that he would cry. After listening that Amrit starts crying and asks her what did he do that made her think to end up the relation. Barsha replies that he smokes everytime and acts like a baby. Later she says that she is getting late for home and leaves. As she leaves, Amrit texts her not to leave him and come back.After a while, Barsha rings the door bell, and as Amrit opens up the door he says that he knew that she would come back. Barsha replies that she forgot her scooter's key.
As this scene ends up, the movie comes in the present (conversation between Amrit and Diljung). His friend says that he need to be happy rather than being sad as he got what he wanted 'break up'. He again lights up cigarette and asks him listen the full story. The movie again shows the past. Barsha, as says that she had already wore shoes, asks him to bring the keys. Amrit goes to bring the keys, and Barsha, slowly hugs him from back and says that she surprised her instead of him, and would never leave him again. The movie again shows the current where Diljung laughs at Amrit and says that he thought it was a tragedy, but in fact was a comedy.